Halloween parties are fun – and not just for the kids. Adults, too, love the deliciously fake and sometimes corny atmosphere. While kids might be happy with costumes and grease paint, adults like to dress up and display apropos jewelry. Cases in point are black diamonds. No, these are not chocolate diamonds that we have previously discussed. These are the real – and rare – deal. Mined in Central Africa as well as Brazil, these types of diamonds are exceedingly extraordinary and difficult to find. At Peter Suchy Jewelers, we have made sure that we have a nice selection just for you.
Black and White Diamond Bracelet Set in White Gold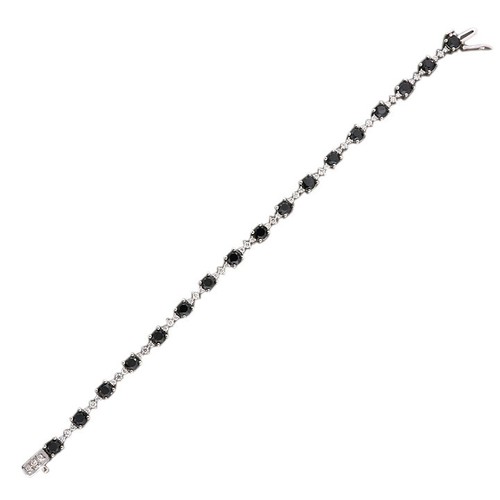 Set in 14k white gold, there are
17 black diamonds
, each of which is separated from the others by three smaller white diamonds. This pattern looks very attractive for a monochromatic ensemble or for an appearance that features color patterns. The black diamonds weigh a combined total of 4.25cts; each stone measures 4.05mm. The 51 full-cut white diamonds weigh a total of .25cts. At a length of 6.5 inches, this bracelet fits comfortably on the wrist.
Oval Diamond Ring with Halo Set in Platinum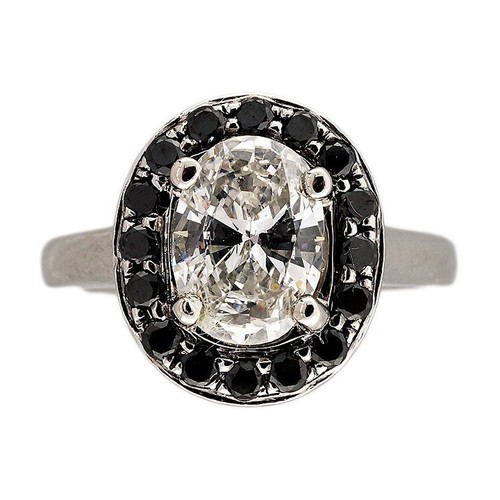 Are you contemplating a late-October engagement? If you want to stick with the month's Halloween theme, why not choose a diamond ring that displays
white as well as black diamonds
? This ring is made from platinum. A brilliant-cut oval white diamond weighs .96cts and acts as the focal point of this ring. It is surrounded by 16 black diamonds that form a halo. Opaque in presentation, these stones weigh a collective total of .30cts. This ring looks gorgeous on the finger and is quite noticeable.
Art Deco Ring with an Irradiated Black Diamond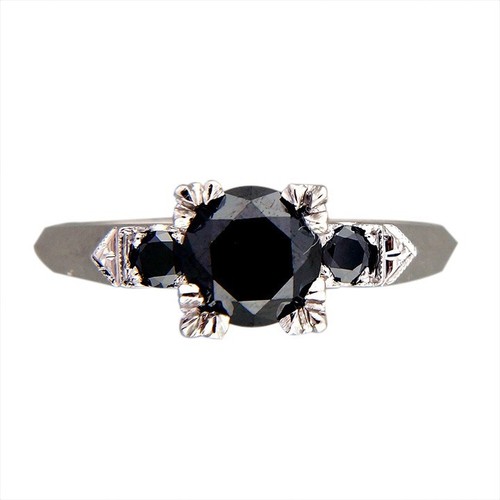 This
ring dates back to the 1940s
. As was common during the Art Deco era, the setting material is platinum. Presenting the classic three-stone design, the focal diamond is an irradiated black diamond that weighs 1.17cts and measures 6mm. Flanking it are two irradiated black diamonds that weigh a combined total of .14cts. If you are in search for an unusual engagement ring or a just-because present, this ring sure fits the bill.
Sonia B White and Black Diamond Ribbon Design Ring
This designer cocktail ring is a beauty. Made by the famous Sonia B design house, its setting is fashioned from 18k white gold.
Sixty-two round black diamonds
, weighing a total of .75cts, create a black band across the larger band of white diamonds. Of these, there are 100 full-cut stones that weigh a collective total of 1.25cts. At the top, the ring's width is 19mm. This ring is excellent when you need something to complete any wardrobe selection – from formal wear to office chic.
At Peter Suchy Jewelers we are experts in all types of vintage, estate and antique jewelry. We hope you'll
stop by our showroom
located at 1137 High Ridge Road in Stamford Connecticut.
Or, hop on over to our top-rated PowerSeller
eBay store
where you'll find all the vintage black diamond jewelry you see here. If you find a listing has ended, please email us at
info@petersuchyjewelers.com
as we may still have the item in stock.