Who is not familiar with the white pearl? For decades – or centuries, really – they have been parts of the basic wardrobes of countless ladies. But black pearls have a mystique that is partially fueled by their rarity. Black pearls are harvested from the
Pinctada margaritifera
oyster. Known in the trade as Tahitian pearls, they are gorgeous, come in a variety of sizes and are frequently accessorized with diamonds to bring out the beauty of the color. Are you ready to add some black pearls to your jewelry box?
Black

South Sea

Peal Ring with Diamonds in Gold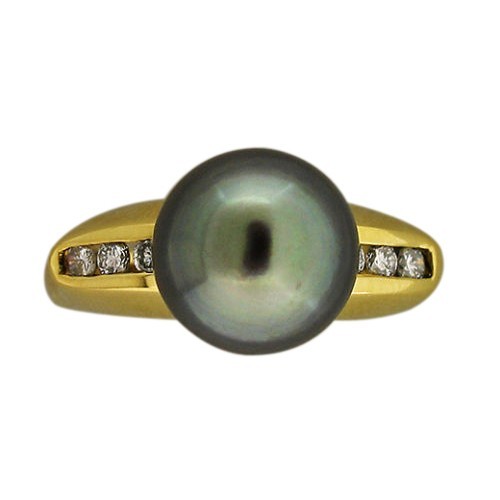 The setting material is 18k yellow gold. The black Tahitian pearl measures 10.2mm. Six round diamonds weigh a combined total of .36cts. It is a natural black pearl that presents with a gorgeous shape and a great luster. Depending on the light, you will notice some greenish overtones, which have earned this type of pearl the nickname of peacock. The channel setting for the diamonds adds an elegant touch to this jewel.
Single Pearl Pendant on a Gold Necklace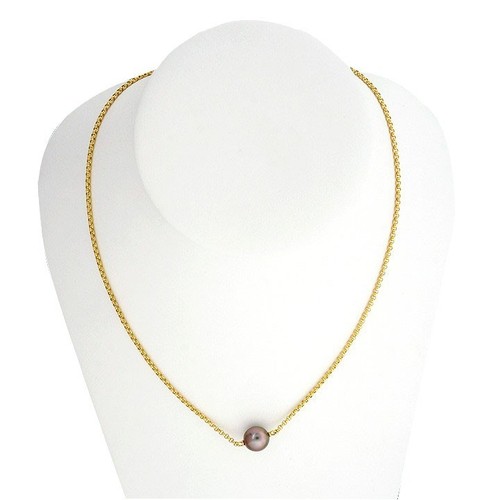 Suspended from a 16-inch 18k yellow gold necklace is an attractive black cultured pearl. It measures 9.33mm. The simplicity of the design adds to its stylish nature. Wear this type of necklace with your Bohemian chic wardrobe or pair it with more formal office wear. This is the type of jewel that plays well in any setting.
Peacock Black Pearl Dangle Pendant on a Gold Diamond Necklace
If you only look at one black pearl jewel today, make it this one. Suspended from an 18k yellow gold chain, you find a 1.75-inch dangle section. But there is more to the 16-inch necklace than you might imagine. Look closely, and you will notice some of the 52 full-cut diamonds that weigh a combined total of .65cts. Their white brilliance is truly breathtaking. But the real showstopper is the black pearl with its green overtones. Left in its natural shape, this stunner measures 16mm by 11mm.
Black Strand of Pearls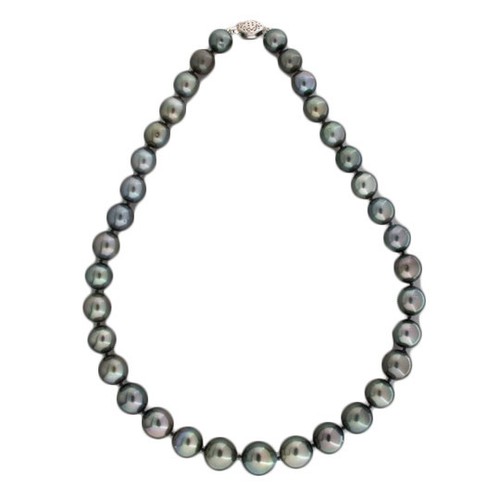 Have you ever dreamed of owning a black strand of pearls? It does exist! Presenting with a 14k yellow gold clasp, the string features 35 pearls. They vary in sizes from 11mm to 14.5mm. These pearls are completely natural and feature the highly desirable peacock look. The strand has a length of 19 inches, which makes it comfortable to wear.
Have we convinced you to give black pearls another look? You cannot go wrong with this type of jewel, which is as elegant as it is suitable for all types of wardrobes. Of course, the same can also be said for the customary strand of white pearls – albeit without the Tahitian south sea mystique.
At Peter Suchy Jewelers we are experts in all types of vintage, estate and antique jewelry. We hope you'll
stop by our showroom
located at 1137 High Ridge Road in Stamford Connecticut.
Or, hop on over to our top-rated PowerSeller
eBay store
where you'll find all the vintage black pearl jewelry you see here. If you find a listing has ended, please email us at
info@petersuchyjewelers.com
as we may still have the item in stock.