Can you believe that October 31 – Halloween! – is almost here? Will you be taking the kids out to go trick-or-treating? Are you attending a Halloween bash? Maybe you are just getting ready to welcome trick-or-treaters yourself. Whatever the case may be, consider adding some vintage orange gemstone jewelry to your ensemble that night. If you are not sure what to wear, we can help you!
1940s Orange-yellow Citrine Ring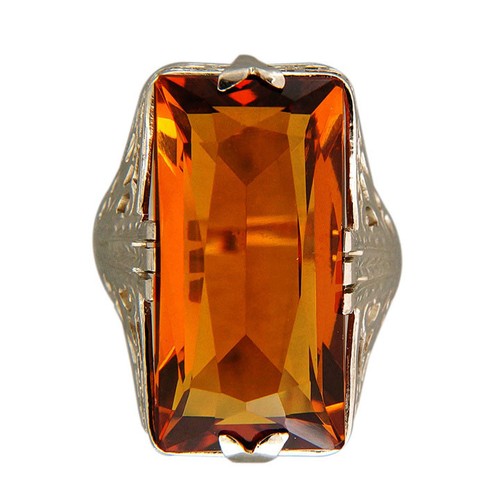 The filigree work of this ring is remarkable. It is
a classic example of 1940s jewelry
. The solitaire is set in 14k white gold. The citrine displays with a modified step cut. The stone weighs 15.0cts. This sizable ring makes a great impression in its Art Deco setting. It looks fantastic on the hand and fits into the Halloween color ensemble perfectly. At the same time, the orange is sufficiently muted to make this piece suitable for wear during other months as well.
Victorian Deep Orange Coral Necklace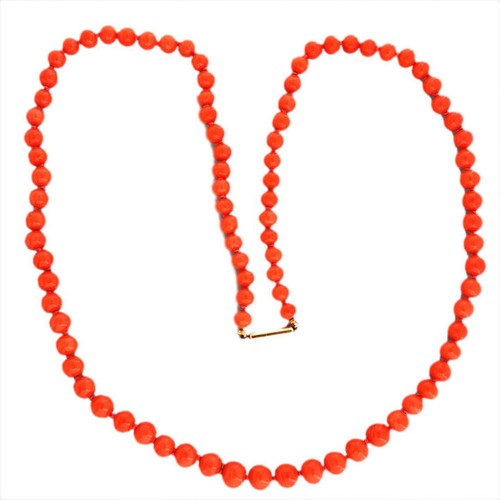 This extravagant necklace was made in the 1900s. There are
91 natural coral beads
that measure between 5.3mm and 7.5mm each. The color is natural and untreated even though the beads have been individually polished. Not too long ago, this necklace has been restrung. The catch is made from 14k pink gold.
Orange-yellow Citrine and White Diamond Pendant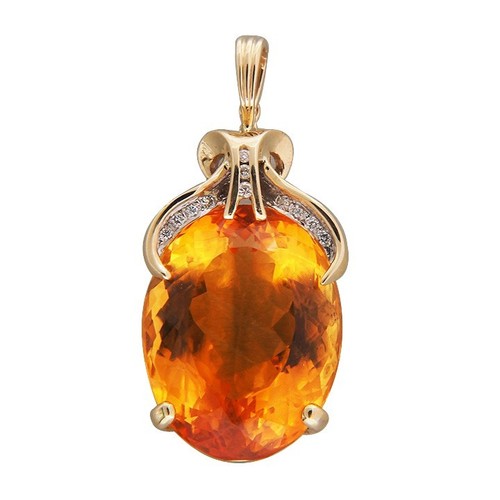 The orange-yellow citrine weighs 20.0cts and displays with an oval cut. It is
set in 14k yellow gold
. The 11 full-cut diamonds are accents that underscore the beauty of the citrine. Their combined weight is .05cts. From top to bottom, this pendant measures 43.18mm, which makes it perfect as the centerpiece of your Halloween jewelry ensemble.
Salmon Coral in a Gold Ring Setting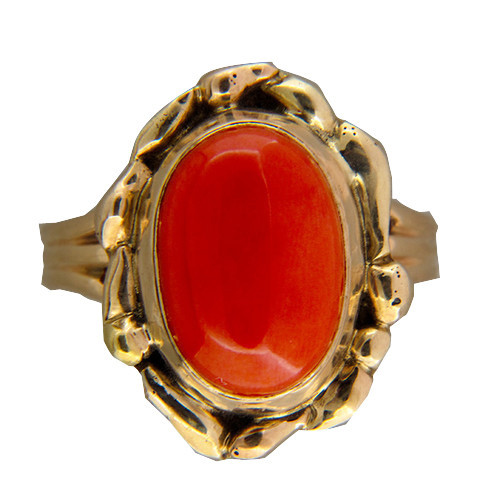 Artisans chose 14k solid yellow gold for the setting material of this cocktail ring. The sizable coral measures 14mm by 9mm. It displays in an oval cut and presents with
a unique salmon-orange hue
. That said, this genuine coral is untreated. A wonderful piece for any fall event, it is most certainly apropos for a Halloween-themed party or outing.
Vintage Italian Coral Cabochon Dangle Earrings

It is next to impossible to overlook the Italian craftsmanship
in these dangle earrings
. If you only add one piece to your orange gemstone ensemble this year, look at these earrings. Set in 14k yellow gold, they feature coral cabochons measuring 15mm by 10mm. Accented by 10 round diamonds weighing a total of .30cts, these pieces have a dignified and dainty look that makes them suitable for being either the main attractions of the wardrobe or perform as accessories.
At Peter Suchy Jewelers we are experts in all types of vintage, estate and antique jewelry. We hope you'll
stop by our showroom
located at 1137 High Ridge Road in Stamford Connecticut.
Or, hop on over to our top-rated PowerSeller
eBay store
where you'll find all the vintage orange gemstone jewelry you see here. If you find a listing has ended, please email us at
info@petersuchyjewelers.com
as we may still have the item in stock.