The Fifties were the decade between World War II and the Cold War. America's economy was humming along nicely and the ladies looked to the silver screen for inspiration on the latest looks. Bardot and Loren set the standards. Youngsters rocked out to Fats Domino and Elvis. Diamond rings possessed an understated elegance that became a hallmark of the era. Here are some examples that perfectly express the sentiment of the times.
Ideal-cut Diamond Ring with Baguettes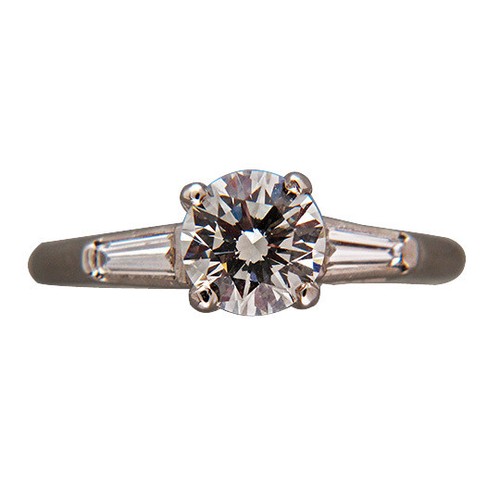 This cocktail ring is set in platinum. It features
a 1.03cts center diamond
in the ideal cut. There are two tapered baguette-cut diamonds that accentuate its beauty. Their combined weight is .20cts. The sparkle of this ring puts many bigger stones to shame. If you are thinking of proposing marriage, you cannot go wrong with this ring.
Platinum Eternity Ring with Various Diamonds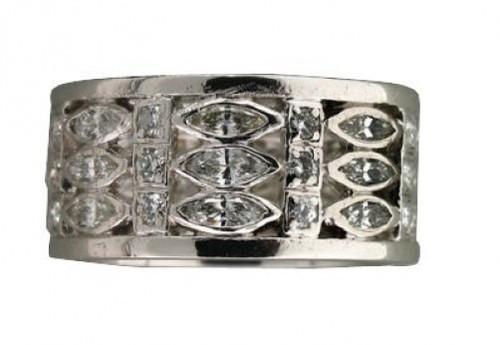 Is your anniversary coming up? This eternity ring is a perfect gift. Made from platinum, this setting holds three rows of diamonds. Twenty-four marquise-cut diamonds weigh a combined total of 2.50cts. In between these stones, there are 24 round diamonds with a weight of .72cts. This ring design is something that you simply do not see anymore. If you are in the market for something unique and extraordinary, this ring is it.
Classic Diamond Engagement Ring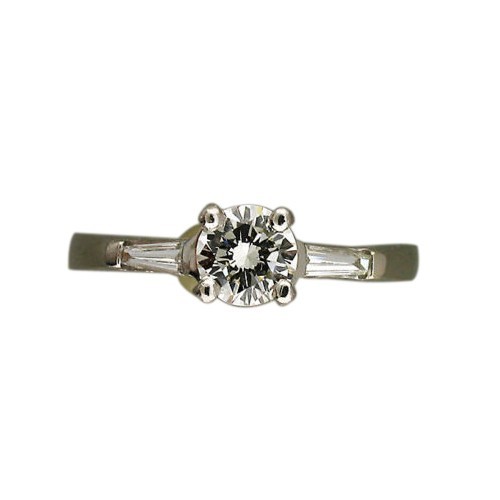 Perfect for daily wear, this ring is made from platinum. This is a classic 1950s engagement ring. The center diamond is held in place by a four-prong setting. It weighs .56cts and features a round cut. Two baguette-cut diamonds flank the center stone. This ring is a perfect example of the decade's love for understated elegance.
Marquise-cut Diamond Ring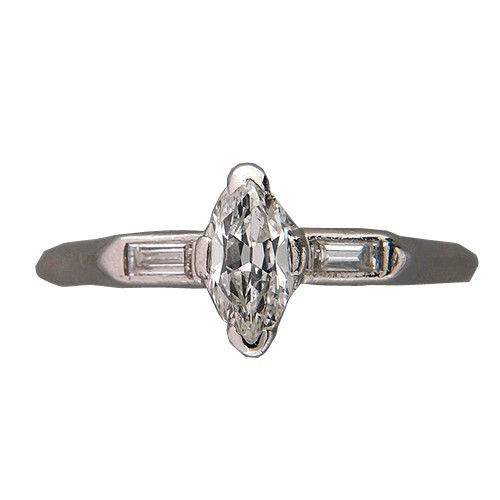 Are you ready for something that has an out-of-this-world look? This cocktail ring fits the bill. The platinum material holds a colorless center diamond that weights .45cts. It features a marquise cut in a display setting that is highly unusual. Two baguette-cut diamonds are placed into the band. Their combined weight is .12cts. Rings such as this one are sure conversation starters.
Gold Engagement Ring with Diamonds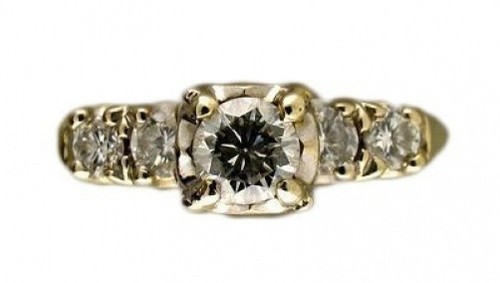 When you are ready to make an impression, this ring does the heavy lifting. The jewel features a five-stone design and relies on a 14k solid white gold setting for its inimitable look. All diamonds display round cuts. The
center stone weighs .33cts
. The side diamonds weigh a combined total of .20cts. What a great way to pledge your undying love and affection!
At Peter Suchy Jewelers we are experts in all types of vintage, estate and antique jewelry. We hope you'll
stop by our showroom
located at 1137 High Ridge Road in Stamford Connecticut.
Or, hop on over to our top-rated PowerSeller
eBay store
where you'll find all the vintage rings from the 1950s you see here. If you find a listing has ended, please email us at
info@petersuchyjewelers.com
as we may still have the item in stock.