There used to be a time, before the discovery of the Brazilian mines, when a natural amethyst was hard to come by. Add to this the natural purple color of the stones, and it is clear why royalty was in love with this gemstone above all others. Plenty of crown jewels feature amethysts that were then among the rarest gems in the world.
Although modern times have brought new sources for the stones, the buyer must be careful not to accidentally purchase manmade stones. Since the manufacture of synthetic amethysts has been perfected to result in very convincing reproductions, it takes a keen eye to know the difference. At Peter Suchy Jewelers, we only offer you natural amethyst beauty with our vintage and estate pieces.
Amethyst Ring with Diamond
s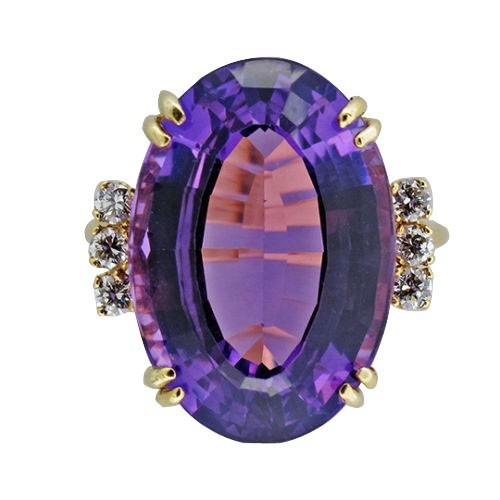 Set in an 18k yellow gold wire basket,
an oval amethyst weighing 15.5cts
creates a grand impression. Four double prongs protect the stone from moving. Six round diamonds weighing .30cts – three on each side of the oval – enhance the sparkle of the ring. The careful cut of the oval amethyst brings out the deepest purple as well as flashes of lavender.
Amethyst Quartz Necklace

If you are ready for a unique look, this necklace delivers.
Made in the Peter Suchy workshop
, this necklace consists of amethyst in quartz points. They are left in their natural shapes but flatted in back. In between the stones are amethyst spacers. Strung on 14k yellow gold wiring, this necklace delights because of its beautiful treatment of the gems. There are 21 amethyst points weighing a combined total of 1,500cts.
Antique Amethyst Ring in Multi-tone Gold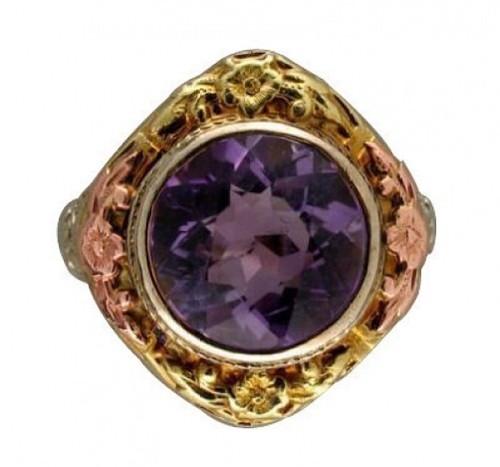 This ring dates back to the 1900s. Its setting is made from
14k white, pink and green gold
. The craftsmanship is wonderfully detailed. The natural round amethyst center stone weighs 4.0cts. This is the type of vintage ring that you just do not find very often.
Flawless Amethyst Dangle Earrings

As sophisticated as they are elegant, these dangle earrings feature 18k yellow gold. Cut in a pear shape,
these stones weigh 32.5cts
. At the top, the dangle portion is connected to faceted amethyst rounds. These gemstones weigh 9.6cts. Look closely, and you will notice that these pieces have a decidedly Art Deco flair. From top to bottom, the dangle earrings measure 1.60 inches.
Amethyst and Pearl Bangle Bracelet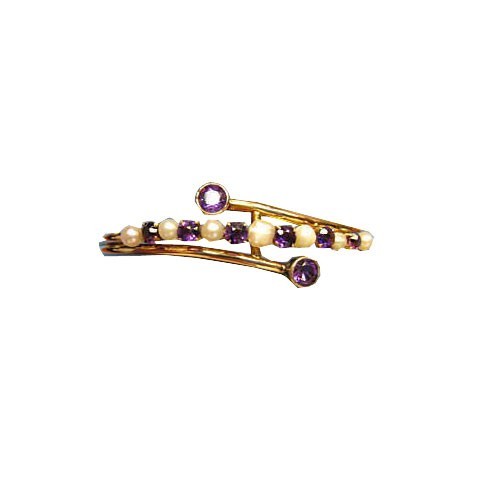 Another piece from the 1900s
, this bangle bracelet is beautifully crafted from 14k rose and yellow gold. The amethyst features a nice bright purple hue. Eight round gemstones weigh a combined total of 2.0cts. There are seven natural pearls that vary in size between 3.5mm and 5mm. The width of the piece is 5/8 inches. This is a truly gorgeous piece that looks stunning on the wrist.
At Peter Suchy Jewelers we are experts in all types of vintage, estate and antique jewelry. We hope you'll
stop by our showroom
located at 1137 High Ridge Road in Stamford Connecticut.
Or, hop on over to our top-rated PowerSeller
eBay store
where you'll find all the vintage amethyst jewelry you see here. If you find a listing has ended, please email us at
info@petersuchyjewelers.com
as we may still have the item in stock.