Platinum is durable, beautiful and hypoallergenic. It hangs on to gemstones for longer than gold, and it is much more resistant to scratches and other types of damage. At Peter Suchy Jewelers, we have a number of platinum rings on display. Here is a short list of our favorites.
Antique Asscher Cut Diamond Art Deco Engagement Ring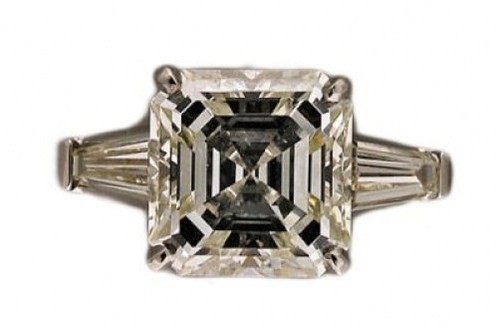 When you are thinking of proposing marriage, this is the ring that you want to have in your pocket. Set in platinum, this ring features a distinct Art Deco look. We date the manufacture of this ring
to the 1910s
. The 4.41cts Asscher-cut diamond solitaire is nothing short of breathtakingly beautiful. It is accented by two tapered baguette-cut diamonds that weigh .95cts.
Art Deco Sapphire and Diamond Ring

We remade the setting of this attractive Art Deco ring. Its stones and original setting date back to the 1930s. The Asscher-cut blue sapphire
weighs a stunning 10.11cts
. Two brilliant-cut diamonds weigh 1.43cts and put emphasis on the beauty of the sapphire. They are triangular in shape.
Star Ruby and Diamonds in a Platinum Ring Setting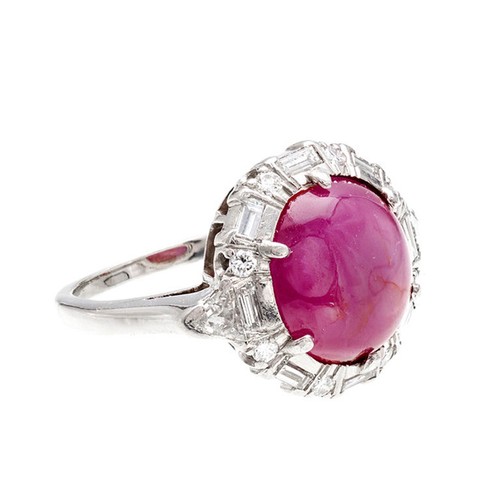 The star ruby weighs in at 8.44cts. It is naturally red and displays a beautiful star. It is set in a late Art Deco design platinum setting. Two triangle-cut diamonds weigh .19cts and highlight the beauty of the center stone. There are also
eight baguette-cut diamonds
weighing .65cts and eight full-cut diamonds weighing .24cts. This is an all around attractive ring that is as close to perfect as any will come.
Yellow and White Diamonds Engagement Ring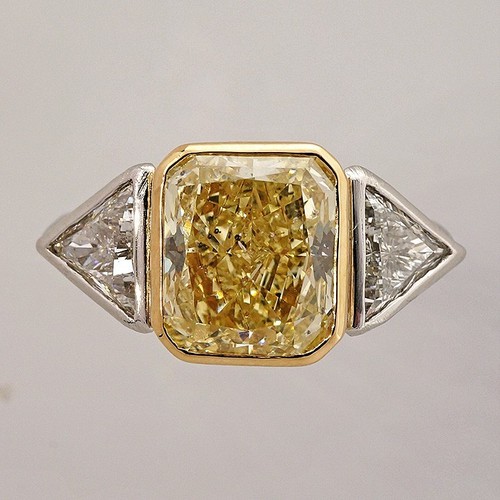 If she loves the color of the fancy yellow diamond, then this platinum ring is the one for you. The yellow diamond is ideal-cut and weighs 3.47cts.
Two trilliant-cut diamonds
flank the center stone; they weigh a combined total of .85cts. This ring sparkles from all angles.
Brown and White Diamond Engagement Ring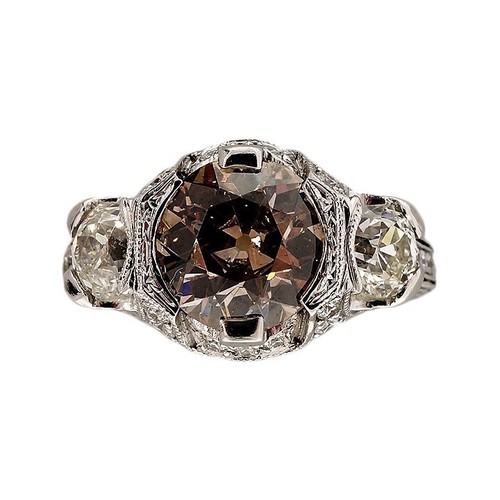 Brown diamonds are in a class of their own. The center brown diamond of this ring
features an old-European cut and weighs 2.19cts
. Two more old-European-cut diamonds are placed to the sides; they weigh 1.05cts. Finally, 38 full-cut diamonds weigh .57cts and bring plenty of shine to the table.
If you noticed that many of our rings come from the Art Deco era, this is no accident. At that time, platinum was the material of choice not just for its good looks and durability, but also because of its weight. Since this metal is denser than gold or silver, it feels more substantial on the hand or around the neck.
At Peter Suchy Jewelers we are experts in all types of vintage, estate and antique jewelry. We hope you'll
stop by our showroom
located at 1137 High Ridge Road in Stamford Connecticut.
Or, hop on over to our top-rated PowerSeller
eBay store
where you'll find all the vintage platinum rings you see here. If you find a listing has ended, please email us at
info@petersuchyjewelers.com
as we may still have the item in stock.