Kokichi Mikimoto is a time-honored name among pearl lovers. This professional changed the look of the pearl in 1878, when his participation in a pearl judging contest brought him to the realization that the overall quality of these gems was sub par. From that day on, Mikimoto made it his life's mission to perfect the look of the pearl via careful cultivation of Akoya oysters and the improvement of pearl farming procedures. It would take him almost two decades to succeed in the cultivation of the first ideal pearls.
Nowadays, the Mikimoto name is synonymous with the highest quality of pearls now on the market. At Peter Suchy Jewelers, we are fortunate to have a sizable selection of these pieces. If you are a pearl aficionado, here are our favorite pearl jewels that bear Mikimoto name. Which ones are your favorites?
Pearl
and Diamond Pin in Gold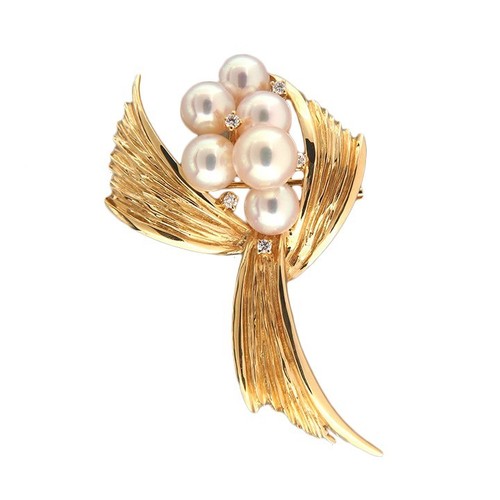 Set in 18k solid yellow gold, this Mikimoto jewel features
six cultured Japanese pearls
with an AAA grade rating. The high luster makes them perfect for the use against a yellow gold backdrop. The pearls measure 7mm except one, which measures 7.8mm and becomes the focal point. Five full-cut diamonds weighing .07cts add a bit of sparkle to the pearl grouping. From top to bottom, this pin measures 51.79mm.
Pearl Ring in a Gold Wave Setting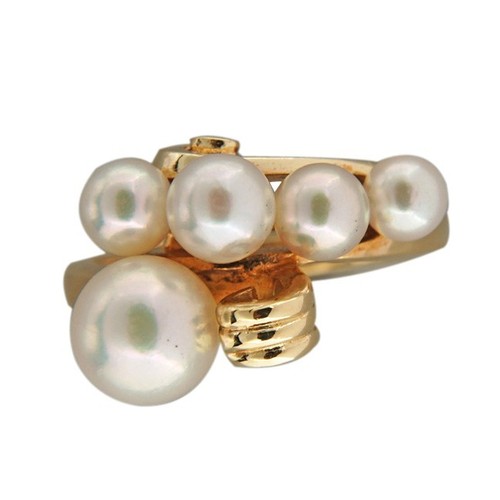 The wave design uses 14k yellow gold.
The focal pearl measures 7mm
. Four additional pearls measure 4mm to 5mm. The ring's top width is 13mm. Its look is so unusual that this is the kind of jewel that will get you plenty of compliments.
French Horn Pin Featuring Gold, Pink Pearls and Diamonds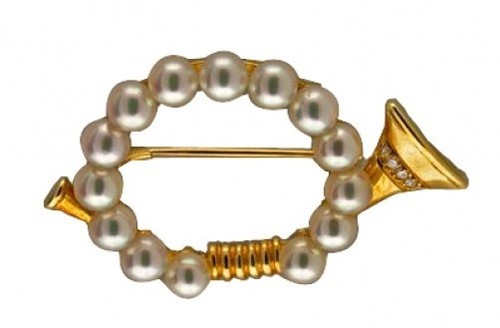 The gems and pearls are set in 18k yellow gold. Look closely, and you will discover that
these Akoya pearls
have a noticeable pink hue, which makes them highly desirable in the trade. Surpassing even an AAA rating, you find 14 perfectly round pearls measuring 4.5mm each. Five round diamonds weigh .05cts and accentuate the look of the French horn. This is a very attractive piece that looks great on a blouse.
Gold Cuff Links with Mikimoto Pearls

Men, too, have come to appreciate the beauty of the pearl. Augmenting the appearance of understated elegance, two pearls are
set in 14k yellow gold
.
Made in Japan, the artisans used AA pearls that measure 6.5mm. Wear these cuff links with confidence in the board room or at that important presentation.
Yellow Gold Tie Bar Featuring a Mikimoto Pearl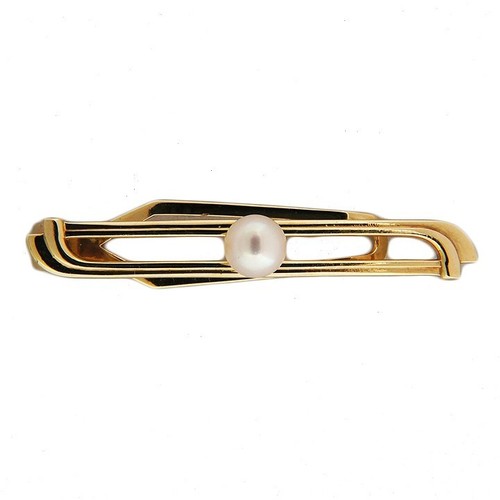 When you want to complete the look, add the 14k yellow gold tie bar to your wardrobe.
A 6.9mm AA cultured pearl
sits at the center. Measuring 49.74mm across and 6.49mm from top to bottom, you continue the look of understated elegance that serves so many high-powered business executives so well.
At Peter Suchy Jewelers we are experts in all types of vintage, estate and antique jewelry. We hope you'll
stop by our showroom
located at 1137 High Ridge Road in Stamford Connecticut.
Or, hop on over to our top-rated PowerSeller
eBay store
where you'll find all the vintage Mikimoto pearl jewelry you see here. If you find a listing has ended, please email us at
info@petersuchyjewelers.com
as we may still have the item in stock.