Since winter is finally done blanketing everything in white, spring can now come out in full force. Look around you! There are colors everywhere! At Peter Suchy Jewelers, we know that multicolored jewels are the perfect expression of this springtime celebration.
Gold Basket Pin with Multicolored Gems on Seven Sticks

This pin is a
gorgeous example of springtime flowers
in their colorful blooms. The basket is carefully crafted from gold. It has been shaped to resemble a carrying device filled with blooming flowers. Stuck into the basket are seven pins. We date these stick pins' manufacturing dates to fall between 1900 and 1930. The gemstones used include four champagne and three white diamonds, rubies, sapphires, amethysts, emeralds, black opal and a shell cameo. This is the kind of piece that you have to see to believe.
Gold
Pin Pendant Palace
House with Numerous Multicolored Gems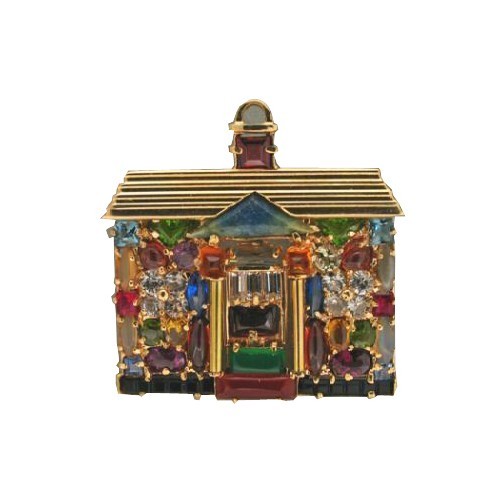 Wear this
14k solid yellow gold house
on a necklace or as a pin. Instead of using uniformly shaped gems for bricks, this palace uses the old-European style of stone shaping for the exterior. There are 11 white sapphires, four blue zircons, 12 onyxes, four amethysts, four peridots, three topazes, four citrines, an aquamarine, two rubies, one lapis, five garnets, four quartzes, one carnelian and one chrysophase. This remarkable piece measures 1 ½ inches by 1 3/8 inches.
Multicolored Enameled Bee Pin with Sapphires and Diamonds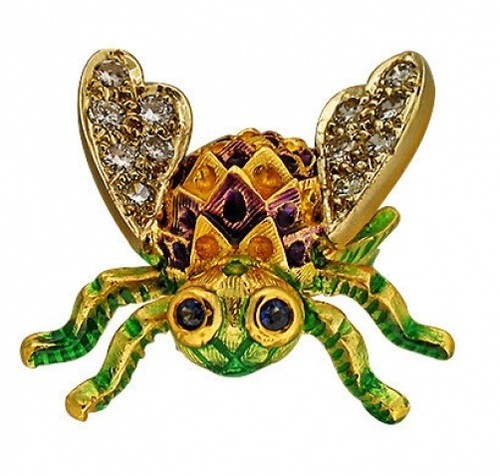 The setting material for this apropos springtime jewel is
18k solid yellow gold
. The bee's body is enameled black and yellow for realism. The legs and head feature green hues. Two round sapphires weighing .10cts are the eyes. For the wings, the artisans chose a 12-diamond pave weighing .50cts. The jewel measures 15/16 inches by 15/16 inches. This good-looking pin is a great addition to a blouse or jacket.
Pink Gold Hinged Link Bracelet with Multicolored Jadeite

The jewelry makers chose 14k light-colored rose gold as the setting for the
17 oval multicolored jadeite jade pieces
. The stones are presented in alternating colors displaying black, olive, light green, reddish brown and white hues. This is an attractive bracelet that looks stunning on the wrist.
Vintage Multicolor Bead Slide Bracelet featuring Cameos

An almost guaranteed conversation starter, this bracelet is
highly unusual in its design
. We date its artistry to the 1950s. It starts with 14k yellow gold. The bracelet consists of 12 sections, each of which carries a differently carved cameo. Four are made of Mother of Pearl, four are crafted from shells and four have been made from corals. Each cameo has a different color. Twenty-four gold beads separate the cameos. If you love to collect unique jewels, then this is the one that you do not want to pass up.
At Peter Suchy Jewelers we are experts in all types of vintage, estate and antique jewelry. We hope you'll
stop by our showroom
located at 1137 High Ridge Road in Stamford Connecticut.
Or, hop on over to our top-rated PowerSeller
eBay store
where you'll find all the vintage cabochon cut gemstone jewelry you see here. If you find a listing has ended, please email us at
info@petersuchyjewelers.com
as we may still have the item in stock.