Edwardian jewelry are pieces made between 1890 and 1920 and were inspired by French Louis XVI designed objects including wreaths, urns, stars, garlands, flowers and bows. Metalwork, much like the Victorian period was lace-like and platinum mounts were popular.
Also known as "garland style" jewelry, especially because of the many flowers and garland seen in these pieces, gemstones included pearls, diamonds, sapphires and garnets. Seed pearls were all the rage as well as black opals from Australia. For the rich and royals, only the finest jewelry was worn.
For those well enough off to afford these pieces, Peter Suchy Jewelers has been lucky over the years to find and carry many Edwardian jewelry pieces in our Stamford, Connecticut showroom.
Here, we thought we take a look at some of our favorite pieces. Let us know if you agree we've chosen wisely…leave us a comment below!
South Sea Baroque Pearl Diamond Pendant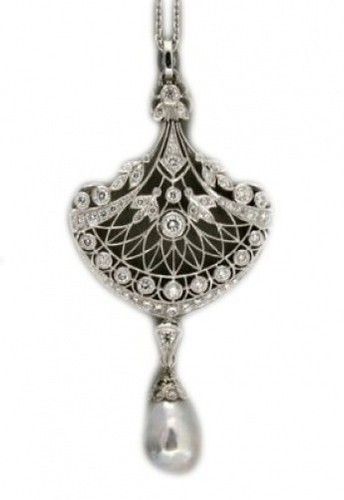 Found in an estate sale, this Edwardian pendant boasts
one baroque South Sea pearl
and 64 round diamonds with a total carat weight of 1.90. Test as platinum, the lace design of this time period is easily seen. What's rare about this pendant is it the bail on the pearl opens and it can be removed from the pendant making it very rare. In addition, because the bail at the top of the pendant is also removable, this pendant can even be worn upside down.
Diamond European-Cut Pink Sapphire Platinum Ring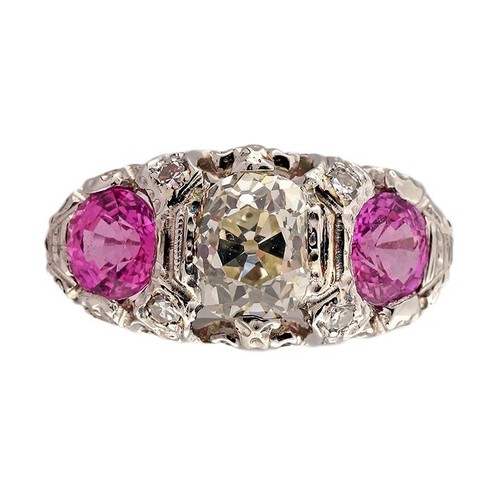 We believe this ring to have been made
between 1890 and 1900
and keeping with Edwardian times, it is set in platinum. The center stone holds an old mine-cut 1.66ct diamond that is EGL certified. On each side are very bright pink European-cut sapphires with a total carat weight of 1.83. Sixteen round cut diamonds with a total carat weight of .10 complement this gorgeous and rare ring. This ring will grace the hand of any woman and one truly has to see it to appreciate how it sparkles.
Diamond and Pearl Earrings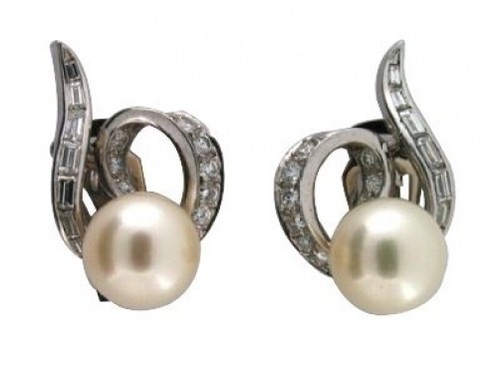 Made in the 1920s,
these Edwardian earrings
include a swirl design that also shows off the Edwardian time period.
These swirl design and cup that holds the pearls have been tested as platinum and the rings post and clips are 14k white gold. Each earring contains one Akoya pearl and there are a total of 32 mixed shaped diamonds with a total carat weight of .75. Pearls were popular in this jewelry era and these vintage earrings don't disappoint!
Pierced Engraved Sapphire, Diamond and Platinum Ring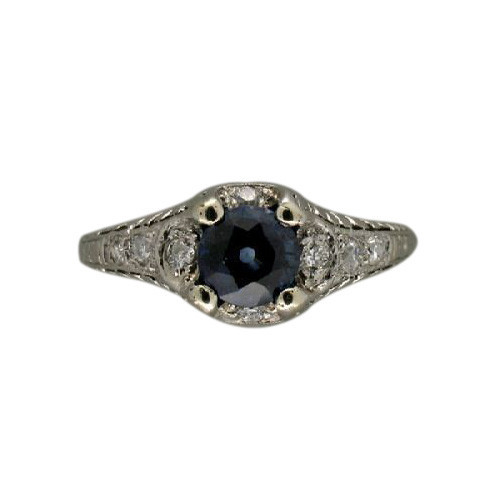 Also from an estate is this Edwardian ring and
it is truly a masterpiece
!
This handmade pierced and engraved pave-set ring holds one intense blue sapphire with a total carat weight of 1.05. The ring has been tested as platinum and there are also 8 round diamonds weighing approximately .14 carats. We believe this to ring was created between 1910 and 1920 and is truly representative of the Edwardian era.
Eight-Sided Diamond Engraved Pierced Platinum Ring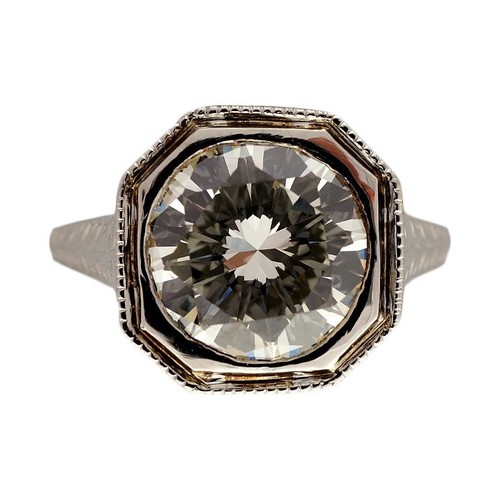 Last, but not least, this Edwardian ring was made in the 1930s and has been tested and stamped as platinum. This
8-sided top hand engraved and pierced ring
is complemented by small diamonds. And the center cut diamond is a traditional-cut gem that is very white and sparkly—the ring is so beautiful it almost appears fluorescent. The center stone diamond has a total carat weight of 2.07 and is EGL Certified. Truly stunning and quite the rare find!
At Peter Suchy Jewelers we are experts in all types of vintage, estate and antique jewelry. We hope you'll
stop by our showroom
located at 1137 High Ridge Road in Stamford Connecticut.
Or, hop on over to our top-rated PowerSeller
eBay store
where you'll find all the vintage Edwardian jewelry you see here. If you find a listing has ended, please email us at
info@petersuchyjewelers.com
as we may still have the item in stock.