Flowers and spring go hand in hand. As the seasons change, we frequently see customers buying new flower-themed vintage jewelry to augment the pieces they have previously collected. When you are in search for just the right flower pendant, Peter Suchy Jewelers can help.
Flower Pendant Featuring Pink Gold and Red Coral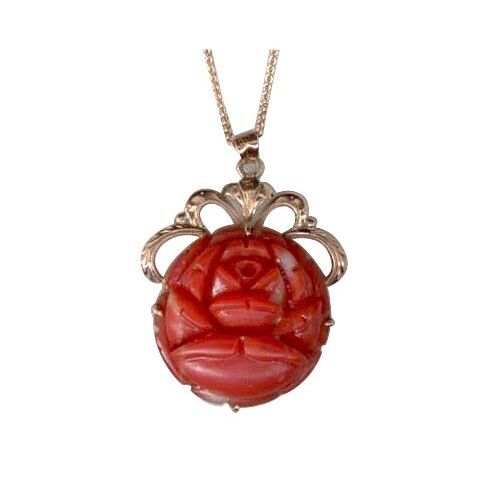 Artisans chose
14k solid rose gold
to fashion the setting for this pendant. Due to the intricate workmanship, we date this piece to about 1935. The jewelry maker carved a rose motif into red coral that features minute white mottling, which makes the outstanding high relief carving come alive. We include a 16-inch chain. The pendant has a 23mm diameter.
Jadeite Jade and Ruby Pendant with Floral Motif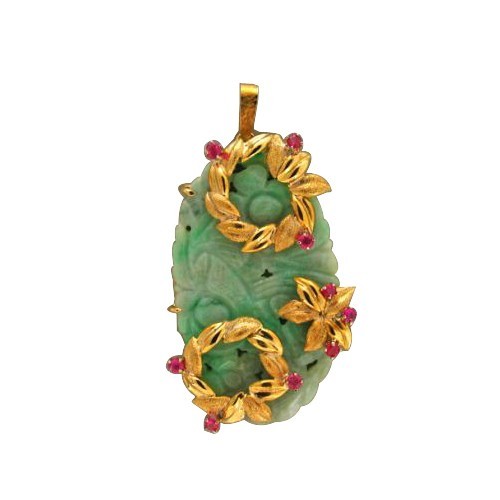 The 18k solid yellow gold beautifully offsets the
shiny green coloration of the jadeite jade
. Gold accents underscore the floral motif of this piece. Nine rubies weigh in at .90cts and create points of visual interest along stylized leaves and petals. We believe that this pendant dates back to the 1960s.
Victorian Flower Pendant Featuring Enamel and Pearls

This piece
was made in the 1880s
. Victorian jewelry makers started with 14k yellow gold. They created a 3-D image of a gorgeous flower. It has a diameter of 27.15mm. Light purple and delicate pink colors come from careful enameling. At the center is a natural white full pearl with a silvery sheen. An additional 30 half pearls serve as embellishments on the petals.
Carved Jadeite Jade Pendant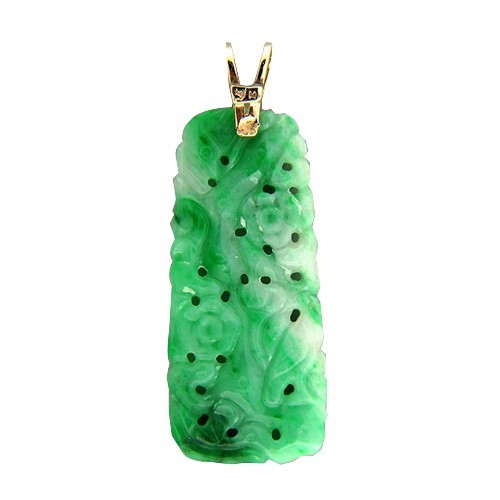 The focal point of this jewel is
the intricately carved gemstone
. A 14k yellow gold clasp ensures that you fit it easily onto a chain. The color of the gemstone is bright green. Look closely to see the carefully executed floral motif. The pendant measures 42.9mm by 19.2mm.
Retro Flower Pendant Featuring Pink and Green Gold, Opal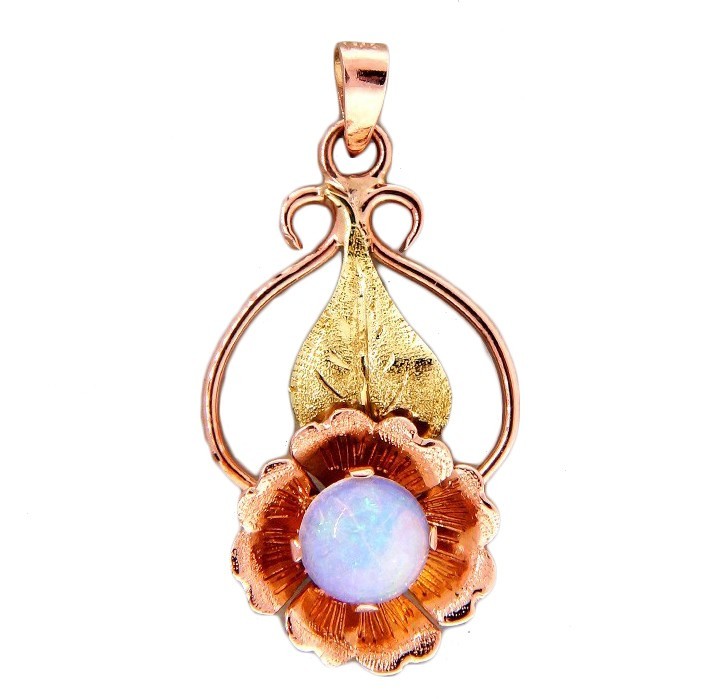 This pendant dates back to the 1940s. It features retro pink colors and comes with
a translucent opal
that displays blue and green flashes. Artisans painstakingly carved the gold to mimic the look and overall appearance of a flower and its leafs. From top to bottom, this pendant measures 1.04 inches.
Vintage Pendant with Gemstone Inlays

Made in the 1800s, this pendant is a wonderful example of the
Pietra Dura style
of jewelry making. The setting material is 14k green gold. The main gemstone is onyx, which the jewelry makers surrounded with natural pearls as a border. There are about 144 seed pearls. Coral pieces as part of the inlay to create the floral motif.
At Peter Suchy Jewelers we are experts in all types of vintage, estate and antique jewelry. We hope you'll
stop by our showroom
located at 1137 High Ridge Road in Stamford Connecticut.
Or, hop on over to our top-rated PowerSeller
eBay store
where you'll find all the vintage flower pendants you see here. If you find a listing has ended, please email us at
info@petersuchyjewelers.com
as we may still have the item in stock.