Doubloons are a mainstay of Mardi Gras revels. Partiers throw them from the floats or catch them with cups and their hands. At Peter Suchy Jewelers, we understand the fascination with the coin shape, feel and look. Older coins remind of times gone by. Coin-shaped or coin-style pieces are comfortable to wear and nice to touch. If you are thinking of adding something to your Mardi Gras jewelry ensemble this year, take a closer look at our compilation of coin-style jewelry.
Frame and Enhancer Pendant with Greek or Roman Coin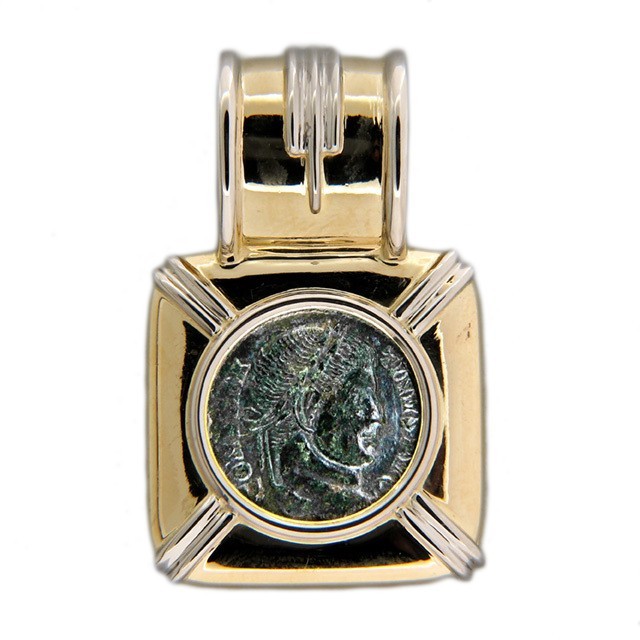 Made from
18k yellow gold
, this pendant is a handmade frame with an enhancer. It holds a 15mm coin that is cast in the style of ancient Greek or Roman currency. The hinged top of the pendant accommodates chains up to 12mm by 10mm. At a width of one inch and a height of 1 5/8 inches, this is a beautiful focal point for your jewelry ensemble. The artistry of the piece persuades us that it has Italian origins.
Coin-style Earrings Featuring Jadeite Jade

The artisans chose 14k solid yellow gold for the setting material.
AGTA has certified the gemstones
of these pieces as being natural. The clip post style of the setting ensures that the jewelry adheres to your ear securely. Look closely, and you cannot help but be taken in by the apple green aspects of the jadeite. This rare color is brought to the forefront by the cabochon cut of the gems. At a diameter of 7/8 inches, these are gorgeous earrings and surefire conversation starters.
Cartier Movado Pendant Pocket Watch with a St. Christopher Medallion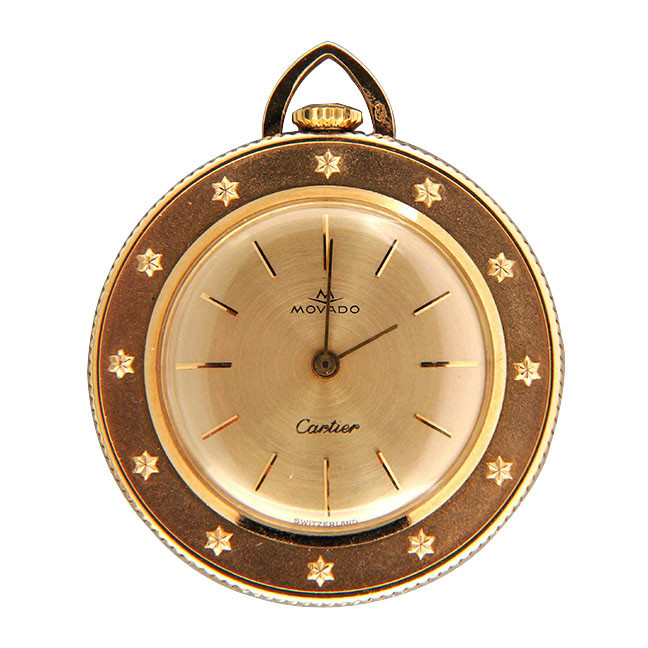 This is a gorgeous piece that you have to see to truly appreciate. Yellow gold makes up the setting material of this pendant. The
Cartier Movado dial and crown
are gorgeous. On the back of the pendant is a highly detailed St. Christopher medallion. Cartier sold this piece in the 1960s. At a diameter of 32mm, this is the perfect coin size to enjoy wearing around the neck. Hand-wind this model of Swiss watch engineering for accurate time keeping. This stunning piece suits for daily wear.
Gold Coin Bracelet with Rubies

The first thing you notice when looking at this 18k yellow gold bracelet is the
Greek key design
. Four 3mm cabochon-cut red rubies serve as accent pieces. A 22k gold Greek coin measures 13.6mm and is the centerpiece of this strikingly beautiful bracelet. There is a hallmark stamp that is unknown to us; it may point to an artisan who has long since ceased operations. You will be hard-pressed to find a similar piece.
Vintage Sunburst Inlay Locket with Multiple Gold Tones

Made in the 1890s, this
coin-style locket
is made of platinum with inlays of pink, green and yellow gold. The resulting image is that of a sunburst. The edging resembles a coin's edge. An old-European-cut diamonds weighs in at .16cts and offers a sparkle element. Open up this locket to insert a lock of hair or a photo. A truly beautiful piece.
At Peter Suchy Jewelers we are experts in all types of vintage, estate and antique jewelry. We hope you'll
stop by our showroom
located at 1137 High Ridge Road in Stamford Connecticut.
Or, hop on over to our top-rated PowerSeller
eBay store
where you'll find all the vintage coin-style Mardi Gras jewelry you see here. If you find a listing has ended, please email us at
info@petersuchyjewelers.com
as we may still have the item in stock.