Previously, Peter Suchy Jewelers investigated
whywe're so fascinated with aquamarines
. This little trip through history netted us the knowledge that the beryl with its greenish blue tint was once associated with mermaids, antidotes to Middle Ages' panoply of poisons and a surefire way for fortunetellers to gaze into the hidden realm. Yet did you know that the aquamarine is also a means for us to appreciate true beauty?
Case in point is the
Dom Pedro
, which is the largest cut aquamarine currently on display at the National Museum of History. It was mined in Brazil in the late 1980s. After it was shaped and worked by Bernd Munsteiner – the craftsman of fantasy cut renown – it became an obelisk standing 14 inches tall and weighing an astounding 10,363 carats.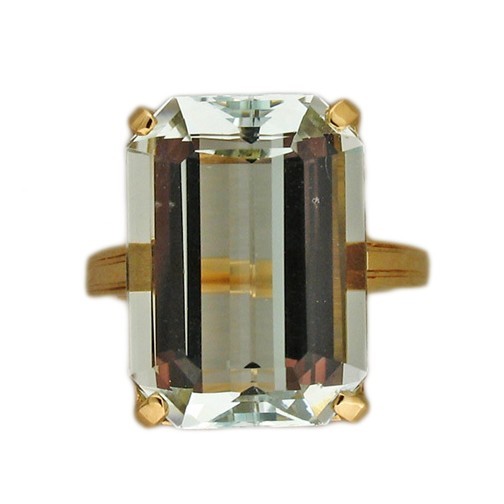 At a paltry 109.92 carats, the Hirsch Aquamarine is – by comparison – rather tiny. Worked into an emerald cut, this stone displays the perfect sea blue color. At present, the stone is set in an 18-karat white gold pendant studded with 118 diamonds. It is a piece of the jewelry compilation associated with the House of Louis XV.
When it comes to price, there is no costlier aquamarine than the Santa Maria type. Mined in Brazil, these stones were initially discovered in the 1950s. Exploited over the course of the decades, this particular deposit is close to reaching its end. While there are similar stones found in the 1990s in Africa, they are not completely identical in color. To ensure that buyers know the difference, the latter stones are known as Santa Maria Africana. A true Santa Maria aquamarine sells for as much as $700 per carat.
At Peter Suchy Jewelers, we understand the fascination with the aquamarine. We have identified a couple of stunning pieces that are the highlights of our inventory.
Pear-shaped Aquamarine and Diamond Pendant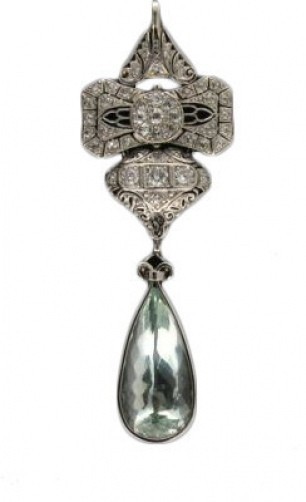 Made in the 1900s
with a platinum setting
, this pendant actually features four sections. The pear-shaped aquamarine weighs 11.67cts. Forty-three old-European-cut diamonds weighing 1.35cts bring their sparkle to the design. This breathtaking piece displays a pale color that looks beautiful around the neck.
Charles Krypell Aquamarine, Sapphire and Diamond Dangle Earrings

Charles Krypell has a strong reputation for his
bold jewelry designs
and painstakingly intricate means of working the stones. This set of dangle earrings is no exception. Made from 18k white gold, these earrings feature two oval aquamarines weighing 3.5cts. Forty-two round blue sapphires weighing 4.2cts bring out the blue in the stones. A total of 146 diamonds weighing 2.86cts add bright white sparkle to the mix.
At Peter Suchy Jewelers we are experts in all types of vintage, estate and antique jewelry. We hope you'll
stop by our showroom
located at 1137 High Ridge Road in Stamford Connecticut.
Or, hop on over to our top-rated PowerSeller
eBay store
where you'll find all the vintage aquamarine jewelry you see here. If you find a listing has ended, please email us at
info@petersuchyjewelers.com
as we may still have the item in stock.