Located on Huntington Avenue in Boston is the Museum of Fine Arts (MFA). It was just a short while ago in 2006 that the first curator of jewelry was appointed to oversee their vintage jewelry collection. As they tout on their website, "From ancient Egyptian broadcollars to contemporary studio jewelry,
the MFA
has an exciting collection of jewelry from almost every culture."
For those that live in Boston or those traveling there, the museum is always on people's to-do lists. At Peter Suchy Jewelers, because we are experts in vintage, antique and estate jewelry, we thought we'd take a look inside the museum and show you some of the pieces we believe are the most stunning.
Marjorie Merriweather Post Brooch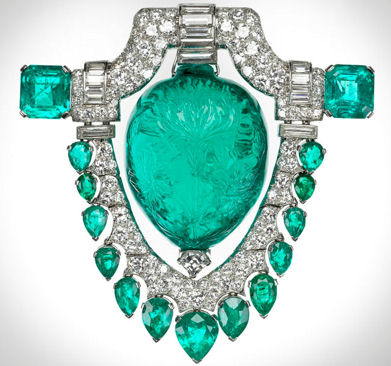 Made by Oscar Heyman & Brothers in 1929, this brooch boasts emeralds and diamonds and is set in platinum. Called a diamond corsage ornament by the curators, this piece is certainly a true symbol of Oscar Heyman at its best.
Bicycle Brooch
Also tucked inside the MFA is this mid-1890s English brooch. Believed to be designed b Streeter & Company, it contains gold, enamel, old brilliant cut diamonds and rubies. A brooch for the well-to-do of the era and definitely a piece we'd love to have in our showroom!
Silver and Turquoise Necklace
When the MFA says they exhibit jewelry from all cultures and time periods, they mean it. This necklace was designed circa 1958ish and was made by Cuban-born Art Smith. The necklace was designed using silver, turquoise, rhodochrosite, chrysoprase and amethysts.
Multi-Gem English Brooch
Believed to be made by English jewelry designer John Paul Cooper in 1909, this brooch contains 15k gold, rubies, moonstones, pearls, amethysts and chryoprase. It reminds us of some of the vintage designer pieces we carry where gems of all kinds were used to create stunning bracelets, necklaces and pins.
March Bird Brooch
This brooch was also made by an English jewelry maker, Charles Robert Ashbee. It is believed to have been crafted between 1901 and 1902 and is Victorian in design. This brooch contains gold, silver, enamel, moonstone, topaz and freshwater pearl.
There are so many pieces at the MFA—many that date back to 15-30 BC. If you plan on taking a trip to Boston, do put this museum on your list of places to visit.
At Peter Suchy Jewelers we are experts in all types of vintage, estate and antique jewelry. We hope you'll
stop by our showroom
located at 1137 High Ridge Road in Stamford Connecticut.
Or, hop on over to our top-rated PowerSeller
eBay store
where you'll we have over 5,000 transactions to date and 100 percent customer satisfaction.