Why buy costume jewelry when vintage jewels are so much more personal, unique and still budget-friendly? Valentine's Day is the perfect occasion to get the teenage girl in your life started on her very own vintage jewelry collection. With the gorgeous pieces that we have, she will never look at cheap imitations quite the same way.
White Gold Ring with Heart Center and Diamonds

The jewelry maker chose 14k solid white gold for the
setting of this ring
. It holds 14 full-cut diamonds weighing .15cts. This woven heart ring looks like it combines two bands. The gemstones are sparkling white, which is beautifully highlighted by the gold.
Heart-Shaped Yellow and White Gold Dangle Earrings with Open Centers and Diamonds

We
date these earrings to the 1950s
. Perfectly appropriate for the school setting, they feature a heart shape. Two single-cut diamonds weighing .06cts provide the sparkle. The material is 14k yellow gold. The artisan chose white gold for the setting of the diamonds. The pieces measure ¾ inches by 9/16 inches.
Heart-Shaped Blue Topaz Yellow Gold Earrings

Placed in 14k yellow gold basket settings,
the blue topaz
is perfect at bringing out her eye color. Made for pierced ears, the heart-shaped topazes weigh a combined total of 5.0cts. The stones measure 9mm by 8.5mm.
Heart-Shaped MJ Design Pin Featuring Florentine Texture and Star-set Sapphires

This
heart-shaped pin
comes from the MJ Design house. Made in 1964, it features textured 14k yellow gold. The pin has been hand-florentined and holds three blue sapphires weighing .10cts. It measures one inch by one inch.
Open Swirl Diamond Heart Pendant

The setting of this heart-shaped pendant is
14k solid yellow gold
. This is an aesthetically beautiful open swirl design that is sure to delight the teen girl on your gift list. The heart features 12 round diamonds weighing .24cts. The pendant measures 7/8 inches by 13/16 inches.
Tri-Color Gold Heart Bracelet by JCM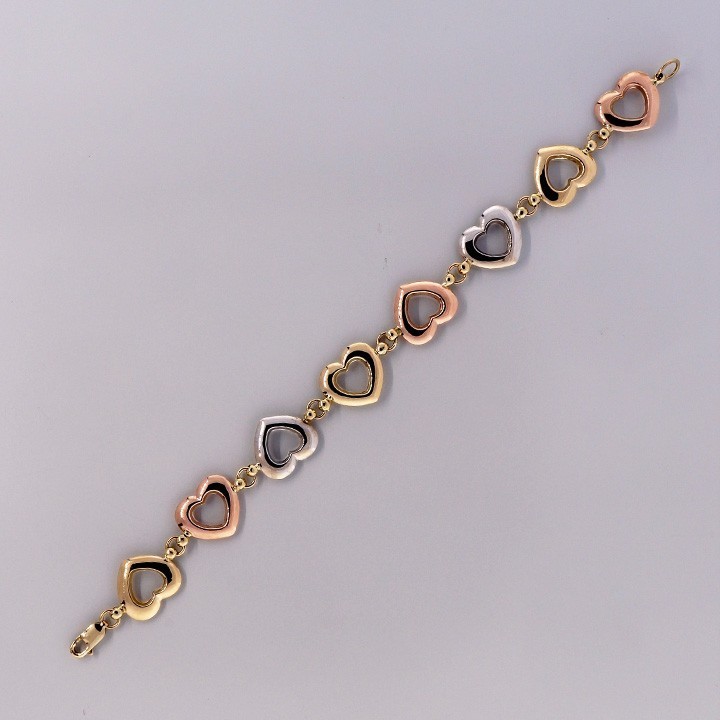 This bracelet
carries the JCM designer name
. It features 14k yellow, white and pink gold hearts. These are designed to be dimensional and suitable for double-sided wear. She will adore the way these hearts play on her wrist as she moves her arm.
None of these jewels is flashy. Rather, they carry a refined air of understated elegance that makes them suitable for wear at school or on the go. When you want your teen girl to have a Valentine's Day gift that she can wear whenever she feels like it, consider one of these fine pieces.
At Peter Suchy Jewelers we are experts in all types of vintage, estate and antique jewelry. We hope you'll
stop by our showroom
located at 1137 High Ridge Road in Stamford Connecticut.
Or, hop on over to our top-rated PowerSeller
eBay store
where you'll find all the vintage Valentine's Day jewelry for teens you see here. If you find a listing has ended, please email us at
info@petersuchyjewelers.com
as we may still have the item in stock.