The slide pendant is a thing of beauty and understated elegance. With the clasp actually being an integral part of the pendant's design, it makes for a distinct look that is difficult to ignore. Due to this intriguing design feature, the pendant usually remains perfectly positioned around your neck. Peter Suchy Jewelers have a sizable inventory of this pendant style. Which are our favorites?
Amethyst and Diamond Pendant with Greek Key Design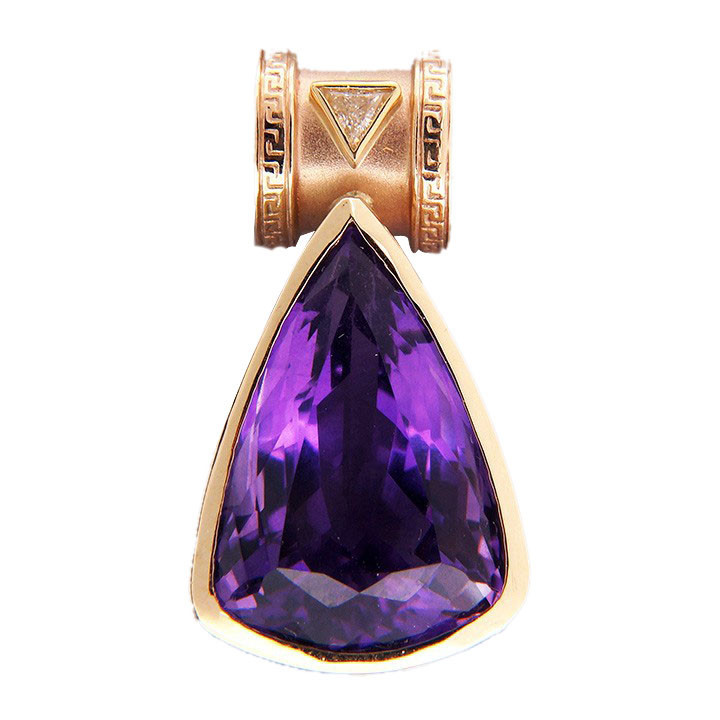 The setting is made of 14k solid yellow gold. It cradles
a 15.50ct bright purple amethyst
. A triangular .15cts diamond accentuates the beauty of the stone. Greek key designs border the round tube of the slide. The slide's diameter is 8.2mm. This gorgeous piece is suitable for a night out or for formal occasions.
Three-Diamond Dangle Pendant with Cable Chain

Made in the 1880s, the artisans chose platinum as the setting material and
old-mine-cut diamonds
for the gemstones. The diamonds weigh a combined 1.80cts. The slide is made up of almost invisible platinum loops that allow the cable chain to fit. The chain measures 16 inches in length. Wear this delicate piece on special occasions.
Denoir Slide Pendant with Amethyst, Topaz and Citrine

This designer pendant is made from 18k solid yellow gold.
Stamped as a Denoir
, it features the telltale bold setting features. The chosen gemstones are an octagonal blue topaz weighing 2.2cts, a trapezoid purple amethyst weighing .60cts and a triangular red citrine weighing .60cts. At a width of 1.20 inches and a height of .91 inches, this jewel easily becomes the centerpiece when worn with a few accessories.
Gold Cabochon Slide Pendant with Green Tourmaline

Artisans chose 14k solid yellow gold as the setting material for
this dramatic pendant
. It features a green tourmaline cabochon weighing 1.20cts. The slide accommodates a chain fitting through its 11.5mm by 5.5mm opening. Wear this daily to the office or buy it as a first piece of vintage jewelry for an older teenager.
David Yurman Gold Pave Set Diamond Pendant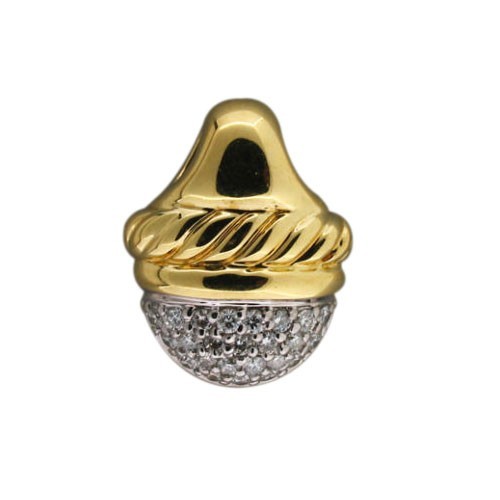 David Yurman jewelry makers used 18k solid yellow gold to hold the
24 round full-cut pave-set diamonds
weighing .12cts. This gorgeous piece beautifully accessorizes pave set diamond earrings or rings.
Of course, we have plenty of other slide pendants in stock. Whether you are a fan of lime green lemon quartz or hot pink trillion-cut tourmaline, we can accommodate your taste and your style. Take a look! When only a slide pendant will do, you cannot go wrong with our vintage pieces.
At Peter Suchy Jewelers we are experts in all types of vintage, estate and antique jewelry. We hope you'll
stop by our showroom
located at 1137 High Ridge Road in Stamford Connecticut.
Or, hop on over to our top-rated PowerSeller
eBay store
where you'll find all the vintage cabochon cut gemstone jewelry you see here. If you find a listing has ended, please email us at
info@petersuchyjewelers.com
as we may still have the item in stock.