Sharing the honor of being the December birthstone with the zircon, the turquoise is perfect for the gal who loves a gemstone with a long history and plenty of lore attached to it. Going back more than 3,000 years, the mention of turquoise jewelry permeates royal histories. There is such a wide variety of turquoise types that it is easy to find just the right stone for her. Peter Suchy Jewelers are proud to bring you an eclectic selection of fine pieces.
Drop Dangle Earrings with Pearls, Diamonds and Turquoises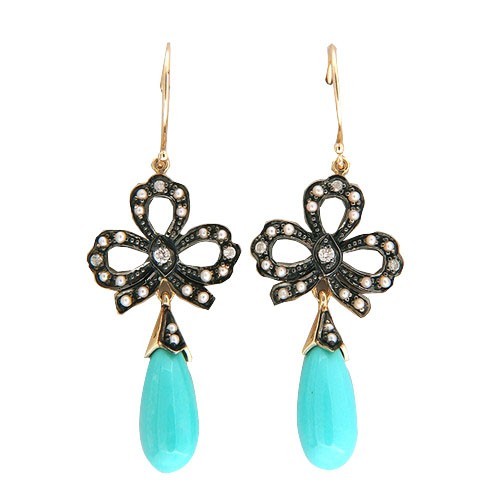 Due to the use of 9k yellow gold as the setting material, we confidently date these
drop dangle earrings
to the Victorian revival period. The earrings have a bow design from which the two turquoises dangle. The pear-shaped gems measure 15mm by 7mm. Six round diamonds weigh .10cts and add plenty of sparkle. There are 40 half pearls measuring 1mm, which imbue the earrings with sophistication and elegance.
White Gold Necklace with Diamonds and Turquoise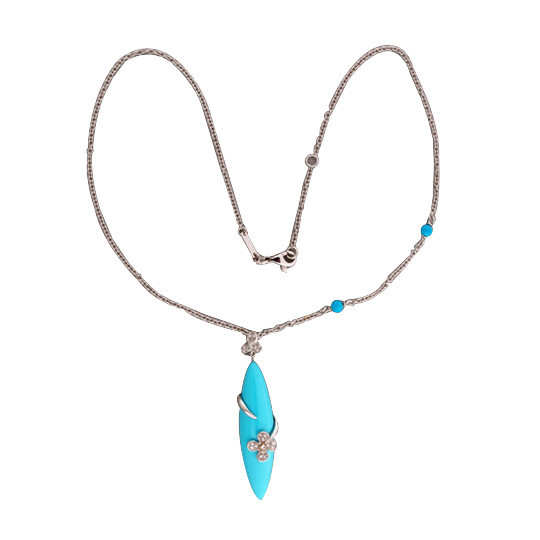 The artisans chose 18k solid white gold
as the setting material for the necklace
. It prominently features a 46mm by 12mm lozenge-shaped turquoise. Two 4mm turquoise beads add interesting accents to the necklace itself. Twenty-three full-cut diamonds weighing in at .20cts offer sparkle and luster with every movement. The necklace's overall length is 18 inches but it can be shortened to 16.5 inches.
White Gold Necklace with Beads of Turquoise, Chalcedony and Onyx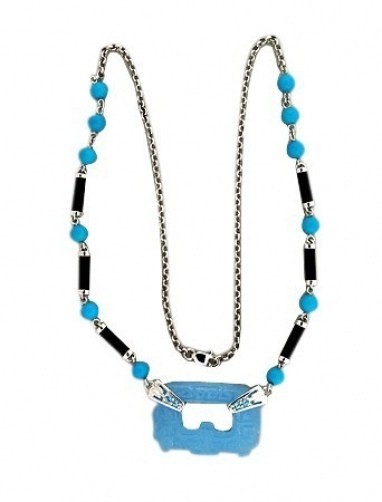 The
color combinations of this necklace are beautiful
. The 14k white gold setting cradles the various beads. Made between 1960 and 1970, the appearance of this jewel has a decidedly Egyptian flair. Twelve round turquoise beads measure 5mm. They support the appearance of a blue chalcedony piece that has been etched for a heightened effect. Six barrel-shaped onyx beads measure 3mm. Finally, there are four blue zircons. The necklace measures 18 inches in length.
Italian Yellow Gold Ring in a Flower Shape with Blue Turquoise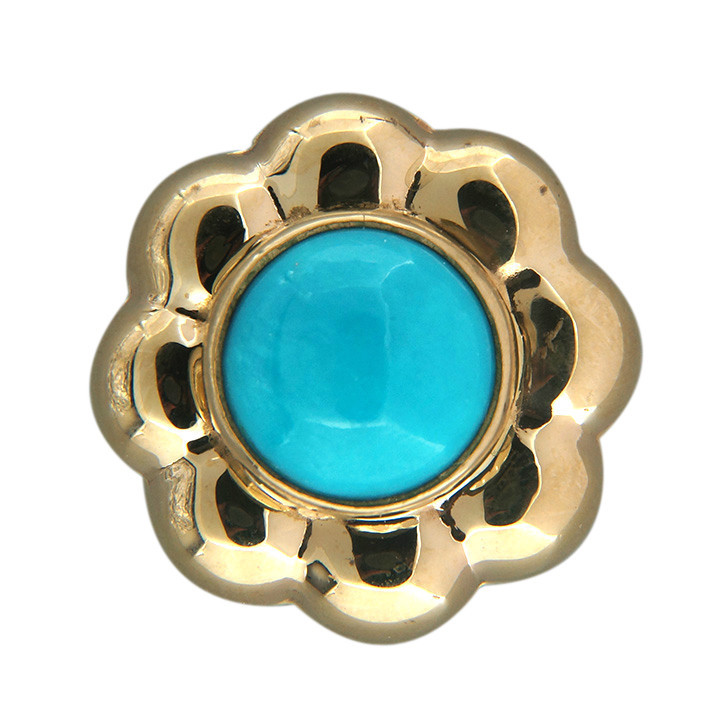 Displaying the solitaire gemstone is 14k yellow gold. The
bright blue turquoise measures 11.5mm
. This great-looking jewel was made in Italy and will become the focal point of any jewelry ensemble.
Yellow Gold Scarecrow Pin with Turquoise, Pearl and Diamond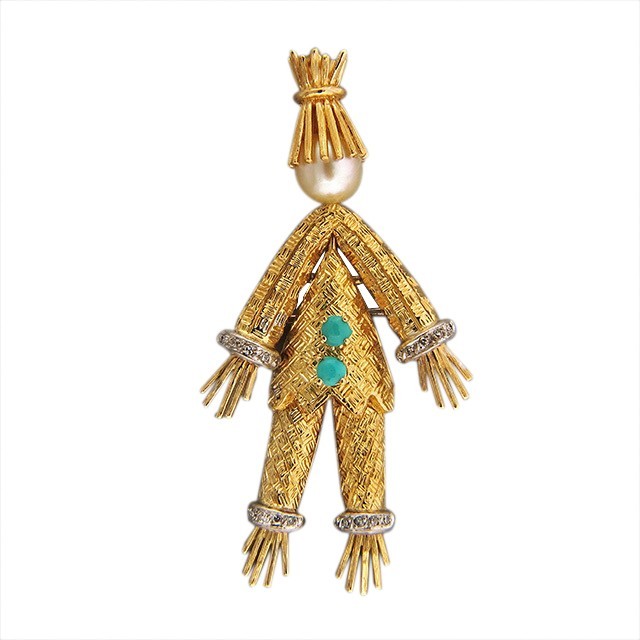 You must see the detail work on this
18k gold scarecrow
body to believe it. A 6.5mm cultured pearl serves as the head. There are 29 single-cut diamonds weighing .05cts that make up wrist and ankle bands. Two 2.7mm turquoises are the buttons. From top to bottom, this piece measures 52mm.
At Peter Suchy Jewelers we are experts in all types of vintage, estate and antique jewelry. We hope you'll
stop by our showroom
located at 1137 High Ridge Road in Stamford Connecticut.
Or, hop on over to our top-rated PowerSeller
eBay store
where you'll find all the vintage turquoise jewelry you see here. If you find a listing has ended, please email us at
info@petersuchyjewelers.com
as we may still have the item in stock.