Are you an avid jewelry collector? Do you have plenty of pieces featuring aquamarines and emeralds in your collection? Are you hoping to find something a bit more unusual to start off a new year of jewelry collecting? Try morganite! Peter Suchy Jewelers are excited to present you with a stunning collection of this beryl that comes in light orange to light pink varieties. In the same family as the aforementioned emeralds and aquamarines, morganites were actually named after famed American financier J.P. Morgan.
White Gold Ring with Morganite Gemstone and Diamond Accents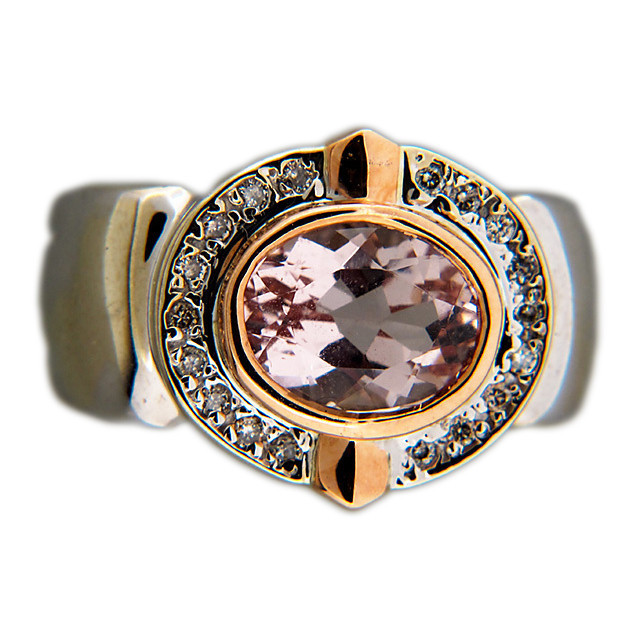 This designer ring features 18k solid white gold. Stamped as a NH creation, it features
a soft pink oval morganite
weighing 2.50cts. Eighteen full-cut diamonds surround this stone and bring .22cts worth of sparkle to the party. To further underscore the beautiful color of the morganite, the designer opted for a pink gold bezel and trim at the base of the stone.
Art Deco Platinum Drop Dangle Earrings with Morganites and Diamonds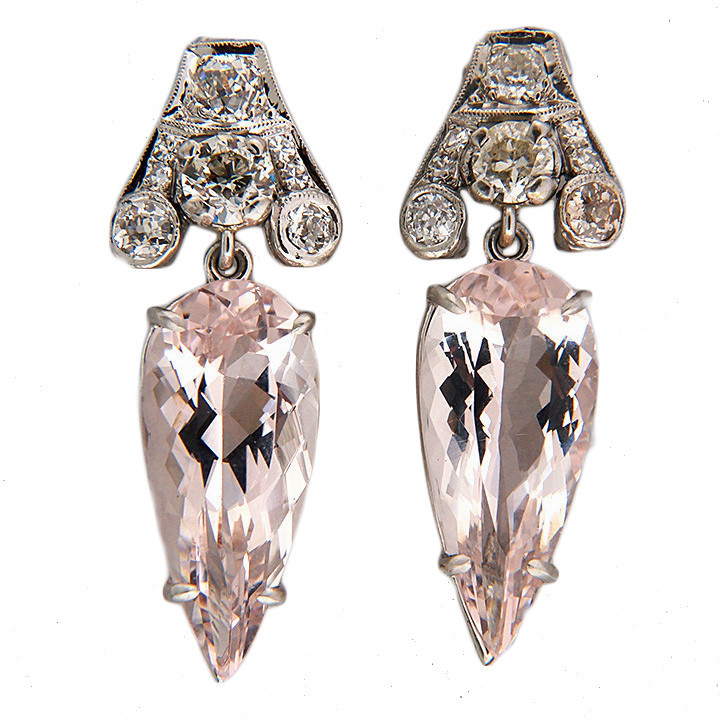 Platinum has always been the setting material of choice for
the Art Deco movement
. These drop dangle earrings are designed for pierced lobes. Smaller diamonds weighing in at 1.54cts accentuate the 12.0cts teardrop-shaped morganites. The result is a pair of earrings that catches the light beautifully and sparkles like freshly fallen snow.
Pink Gold Retro Deco Dangle Earrings with Morganites, Sapphires and Diamonds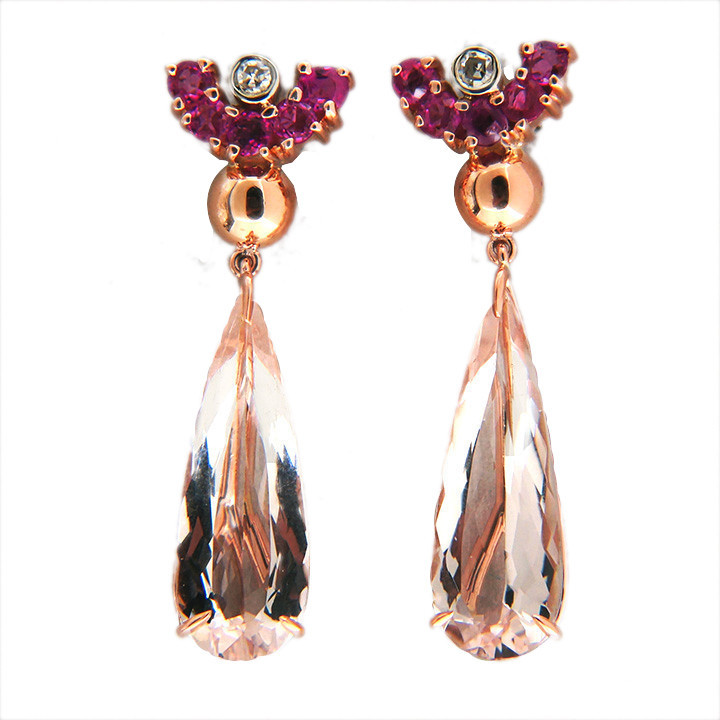 The artisan chose
14k pink gold as the setting material
for the dangle earrings. Falling into the Retro Deco period that is loosely defined as covering the five years between 1935 and 1940, the style elements are easily seen. Pear-shaped morganites weighing 8.40cts are the main gemstones. Two full-cut diamonds weighing .03cts bring brilliance to the post setting. Ten pink sapphires weighing 1.0cts add the Art Deco motif. These earrings are chic and sophisticated.
Art Deco Dangle Earrings with Amethysts and Morganites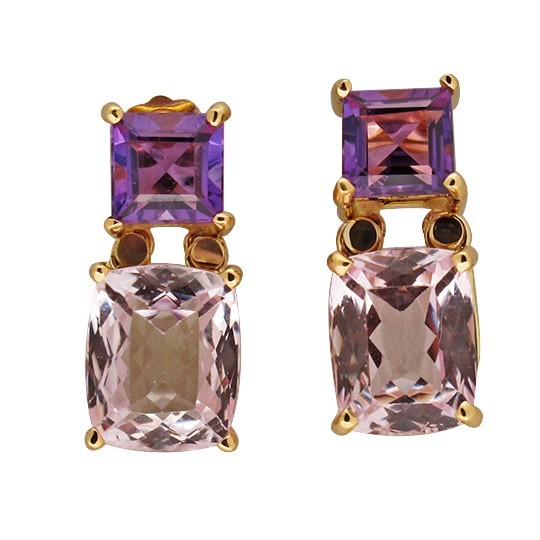 The jeweler opted for
18k solid yellow gold
when selecting the setting material. The Art Deco style elements are clearly evident. Two square-cut amethysts weighing 2.08cts feature a beautiful purple hue that brings out the light pink coloration of the antique cushion-cut morganites. These gems weigh 9.28cts.
Vintage Gold Wire Connect Bracelet with Morganites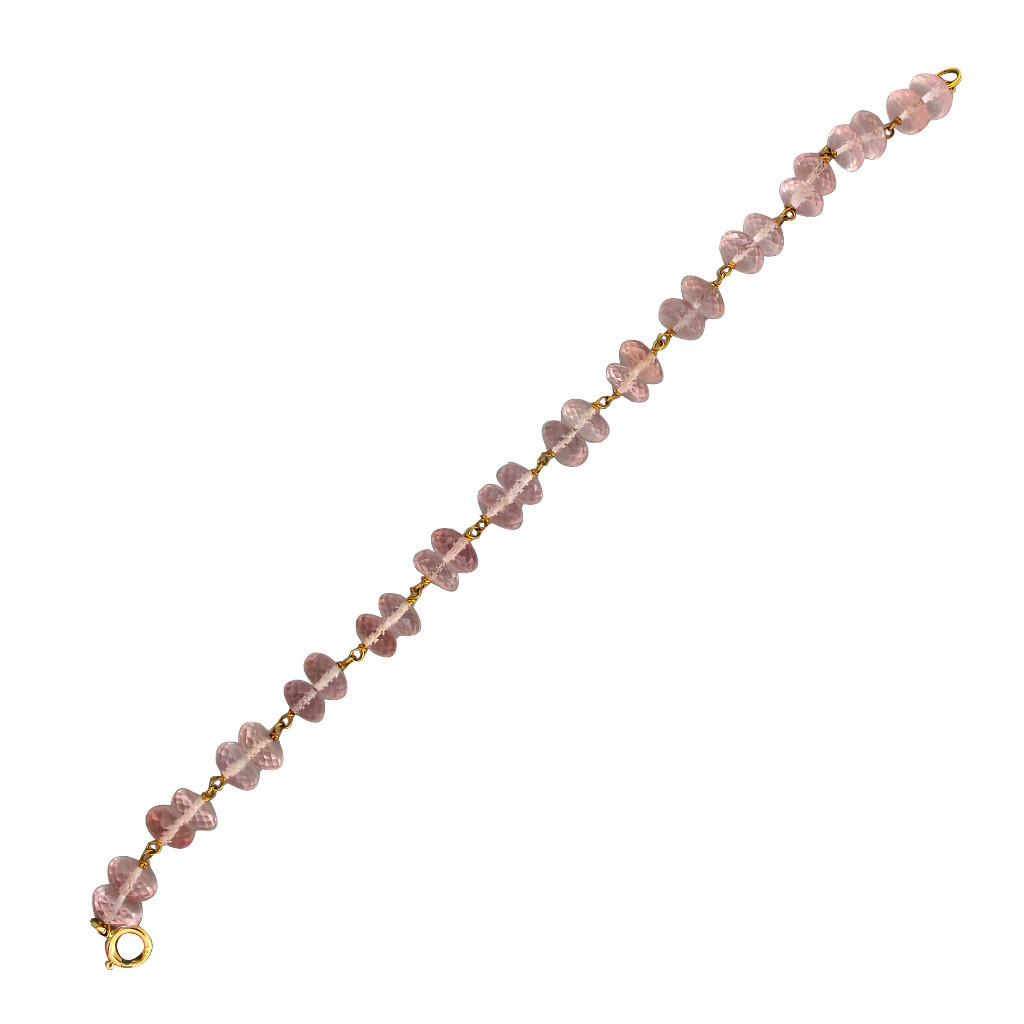 The setting material is made of 14k solid yellow gold. It holds
the individual morganites
that make up the length of this bead bracelet. The total gemstone weight is 40.0cts. The eight-inch length of the bracelet makes it perfect for everyone.
At Peter Suchy Jewelers we are experts in all types of vintage, estate and antique jewelry. We hope you'll
stop by our showroom
located at 1137 High Ridge Road in Stamford Connecticut.
Or, hop on over to our top-rated PowerSeller
eBay store
where you'll find all the vintage morganite jewelry you see here. If you find a listing has ended, please email us at
info@petersuchyjewelers.com
as we may still have the item in stock.