Did you know that the birth flower for January is the carnation? Known among horticulturalists as
Dianthus caryophyllus
, there is a wide variety of cultivars featuring a rainbow of colors. However, for the purist, only the pink to light purplish color variation will do. If you are thinking of giving the gift of flowers to someone with a January birthday, why not make it flower jewelry instead? When you choose pink flower-themed jewels, you not only tie in the month's birth flower but you also give something that will last a lot longer than a bouquet of carnations. Peter Suchy Jewelers have a gorgeous selection of jewels that are perfect for the occasion.
Sapphire Flower Pendant

The setting is made of 14k white gold. Dual flowers hide an opening that is perfect of a thin chain. On one side, there are five yellow pear-shaped sapphires weighing 1.50cts. On the other side, five pear-shaped pink sapphires weighing the same serve to even out the design. A total of three round full-cut diamonds accentuate the piece. This gorgeous pendant is suitable for daily wear. For an older teen, it could be the beginning of a beautiful vintage jewelry collection.
Sapphire, Ruby and Emerald Flower Pin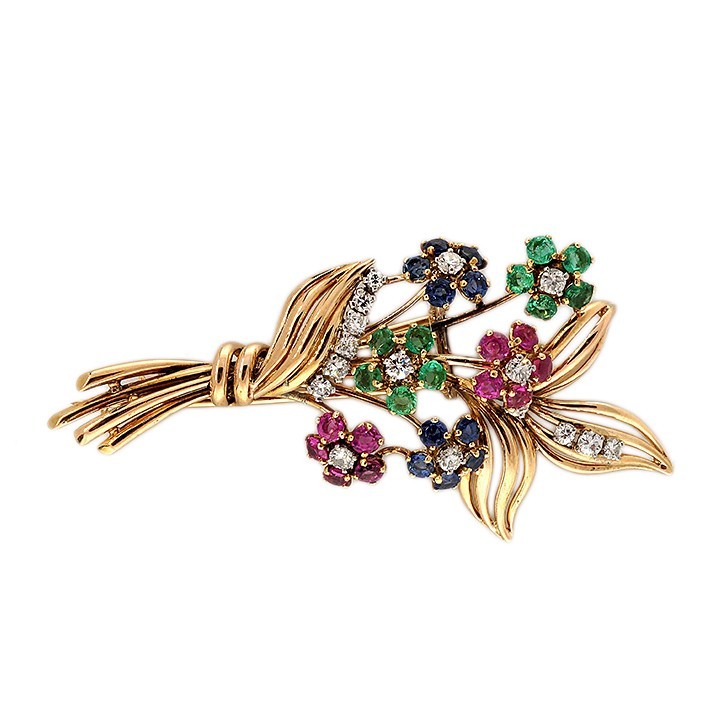 Due to the use of 18k pink gold and intricate artisanship, we trace this jewel to a French artisan in the 1940s. Made by hand, this pin features a double catch. The focal points are the flowers. Ten sapphires, rubies and emeralds bring pink, blue and green shine to the table. The gems weigh in at 1.50cts, 1.50cts and 1.20cts respectively. Twelve round diamonds weigh .60cts and add plenty of sparkle to the bouquet. This is perfect for the office.
Pink and Green Gold Flower Earrings with Diamonds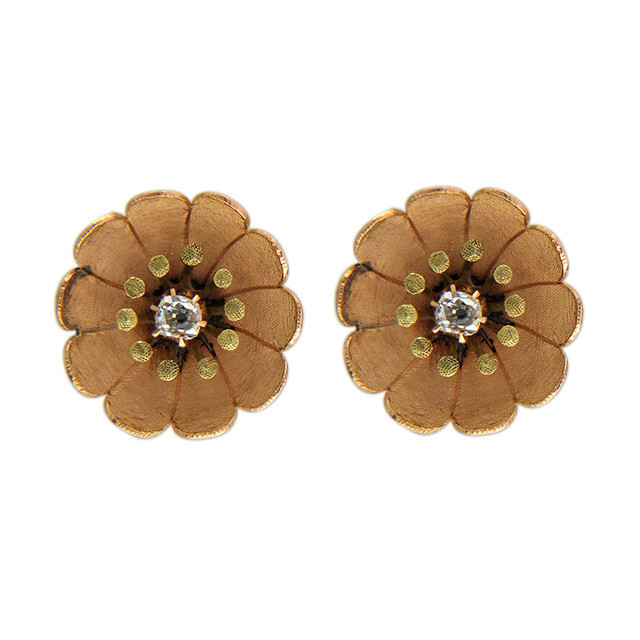 Victorian jewelers used 14k rose gold to create these pierced lobe earrings. The mix of pink and green gold allows us to date the jewels to the 1880s. Shaped as beautifully delicate flowers, the centers are made up of two old mine-cut diamonds weighing .14cts. Wear these earrings to work or for a night out.
Retro Gold Bracelet with Pink Flowers and Multiple Stones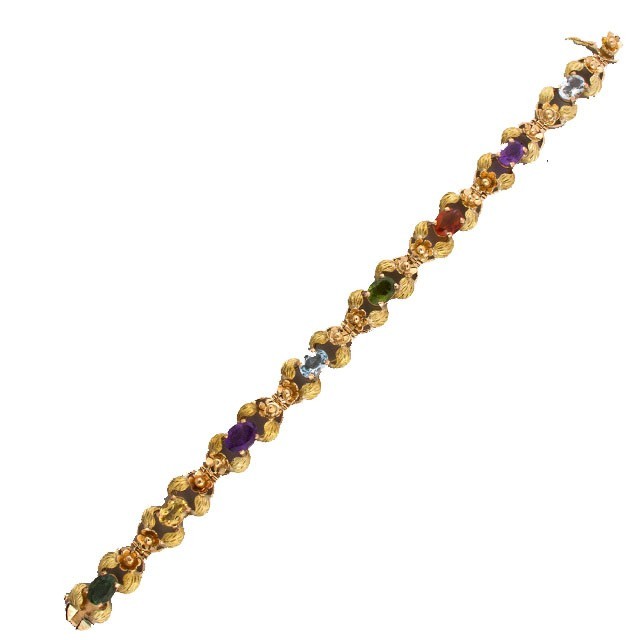 Fashioned from 14k solid rose and green gold, this bracelet was handmade in the 1940s. A hidden catch and side lock this bracelet into place. If you love a wide variety of shiny gemstones, this is the bracelet to choose! Nestled between green gold leaves and pink gold flowers are 4.00cts worth of tourmalines, beryls, amethysts and citrines.
Platinum Flower Bouquet Pin with Diamonds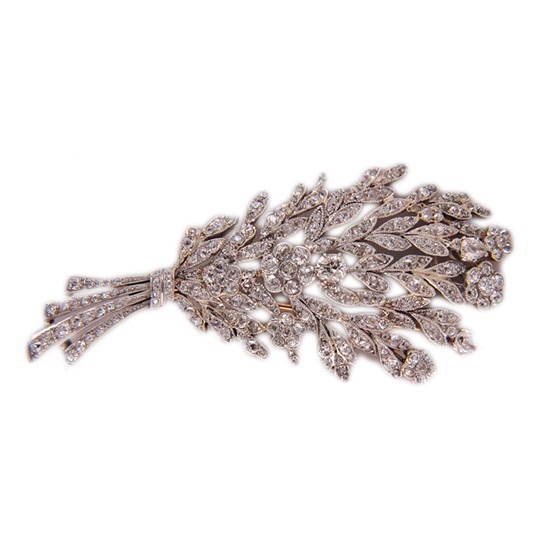 This pin was made in 1910. A 14k pink gold frame supports the platinum setting that holds a variety of diamonds. There are 212 round diamonds weighing 5.30cts. One round diamond weighs .42cts. Two more pear-shaped diamonds weigh .90cts. The old-mine-cut diamonds support the fanciful design of the flower bouquet and greatly highlight the intricate metalwork. Give this pin for special occasions.
At Peter Suchy Jewelers we are experts in all types of vintage, estate and antique jewelry. We hope you'll
stop by our showroom
located at 1137 High Ridge Road in Stamford Connecticut.
Or, hop on over to our top-rated PowerSeller
eBay store
where you'll find all the vintage pink flower jewelry you see here. If you find a listing has ended, please email us at
info@petersuchyjewelers.com
as we may still have the item in stock.