Whether you are looking for a sparkling gift or simply want to add to your own personal jewelry collection, bigger is always better. Peter Suchy knows that some of the most striking vintage pieces feature gemstones weighing at least 8.00cts. Do you know how artisans have incorporated this much gem weight into intricate jewels that will quickly become the centerpieces of your ensemble?
Bangle Bracelet with Diamonds and Sapphires

Fashioned
in the form of a snake
that coils itself around your wrist, the setting material is 18k white gold. A total of 316 full-cut diamonds weigh in at 8.00cts. They make up segments of the snake's body. The visual counterpoint is provided by the 151 pink sapphires that weigh 3.80cts. For eyes, the artisan chose two round rubies weighing .08cts. This is a striking piece that draws eyes from anywhere in the room.
Gold Bracelet with Princess Sapphires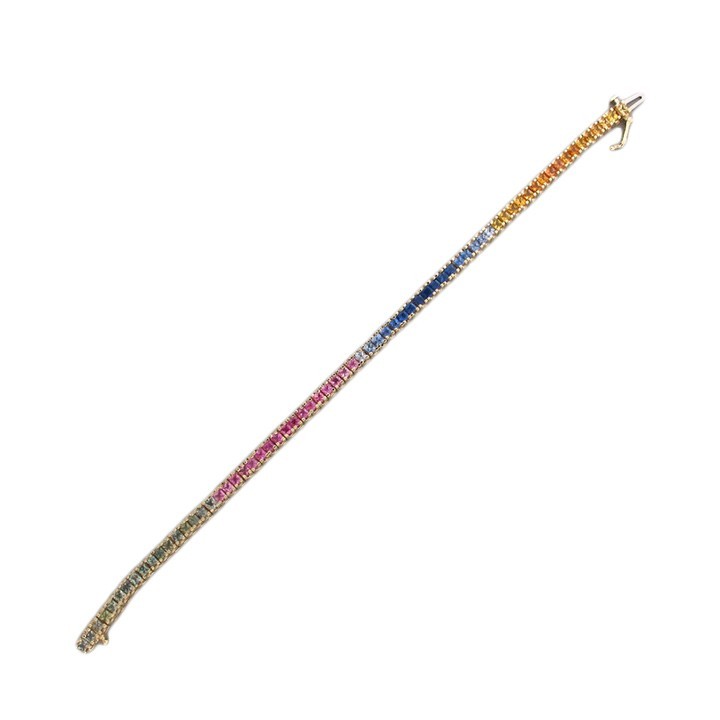 A setting of 14k yellow gold
holds multi-colored sapphires
. The hinged links help the bracelet to stay in tune with your wrist movements. There are 68 multi-color sapphires weighing 10.00cts. The gemstone colors include light green, yellow, pink and light blue. When you look closely, you see that the individual stones measure only about 2.5mm each. Because of their small sizes, the stones imbue the jewel with the illusion of movement. Moreover, this bracelet creates a beautiful rainbow effect.
Gold Bangle Bracelet with Topaz and Diamonds

This
bangle bracelet is crafted from 14k yellow gold
. Six full-cut diamonds weighing .06cts accentuate five oval blue topazes with a total weight of 8.00cts. Each topaz measures 8mm by 6mm. A hidden hinge makes it easy to take off and put on this jewel. The masterful workmanship of the gold top is remarkable.
Platinum Hinged Dangle Earrings with Blue Chalcedony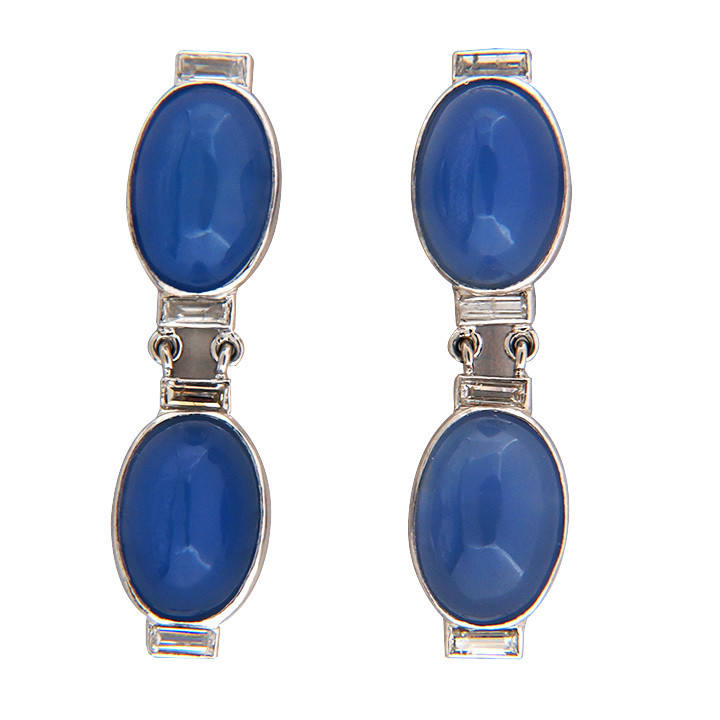 Made for pierced ears,
these drop and dangle platinum earrings
feature distinct Art Deco design elements. There are eight baguette-cut diamonds, which weigh .16cts. The eye is drawn to the cabochon-cut blue chalcedonies, however, which weigh 8.00cts. Hinge portions add a significant amount of aesthetic appeal to these jewels.
Gold Pendant with Smoky Quartz and Diamonds

This is a gorgeous piece and could become the
most important pendant in your collection
. The setting material is 18k solid yellow gold. We have identified the jewel as being a Charles Krypell design. A cushion-cut smoky quartz weighs 8.00cts and has a gorgeous brown coloration. The gemstone is accentuated on its perimeter by 41 full-cut diamonds weighing .70cts. Accessorize this piece with white diamond gold earrings and a smoky quartz ring.
At Peter Suchy Jewelers we are experts at vintage, antique and estate jewelry and we invite you to
stop by our showroom
located at 1137 High Ridge Road in Stamford Connecticut.
Or, head on over to our top-rated PowerSeller
eBay store
where you'll find all the 8.00 carat vintage jewelry pieces you see here. If you find an item has ended, please email us at
info@petersuchyjewelers.com
as we may still have the item in stock.