The pearl necklace has been defined as the staple accessory of a well dressed lady's wardrobe. Produced by a shelled mollusk that has been implanted with an irritant, the iridescent exterior of the calcium carbonate is beautiful in any light and setting. There are freshwater and saltwater pearls, off-white and black selections, and of course pearls featuring a wide variety of different shapes.
If the pearl necklaces and chokers offered by other jewelers leave you cold – although Peter Suchy has those, too – check out what really excites collectors of wearable art this holiday season.
Baroque-shaped Freshwater Unio Pearl Gold Pendant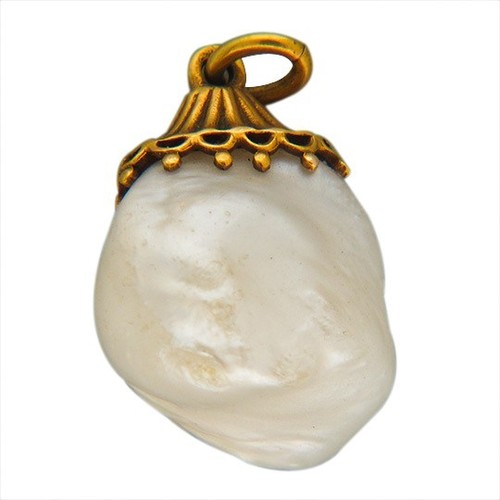 The artisans have chosen 14k solid yellow gold as the setting material for the
ivory-colored cultured pearl
. We date this pendant to the 1900s. The pearl itself weighs about 3.5 grams and is GIA-certified to be completely natural. Since it features a medium-luster baroque shape, it makes for an eye-catching addition to any jewelry ensemble.
South Sea Pearl and Diamond Pendant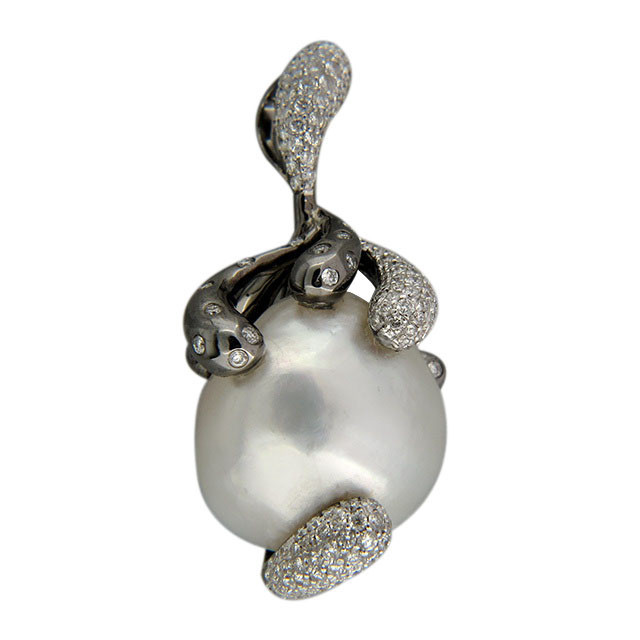 This solitaire pendant features 18k solid yellow gold and
a South Sea pearl
. The gold has been blackened to present a beautiful counterpoint to the sparkle of 97 full-cut diamonds weighing 1.00cts. The cultured South Sea pearl measures about 19mm by 16mm. Manufactured by Aspire Design, this pendant is actually part of the MVEE collection.
Bird Nest Pin Featuring Baroque Pearls, Rubies and Diamonds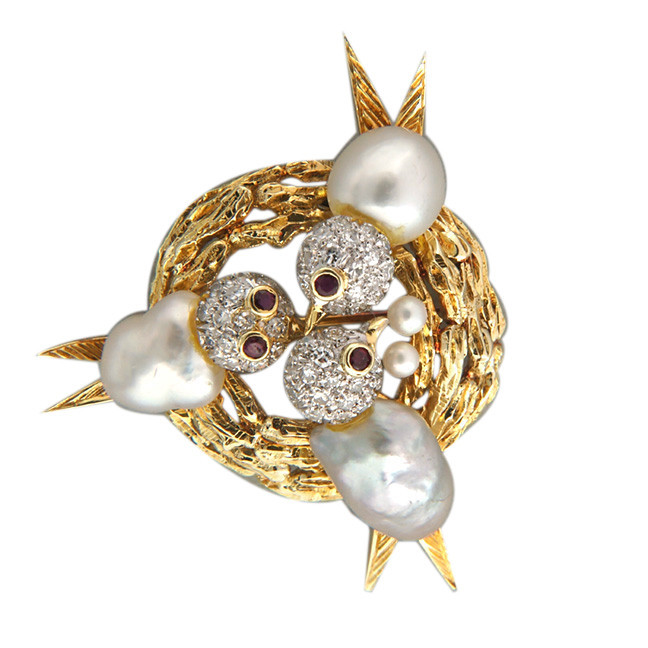 The painstakingly carved and worked nest is made of
14k solid yellow gold
. Three birds are in the nest. Their bodies are made of three baroque pearls. Two small round pearls represent un-hatched eggs. Four 1.5mm rubies act as eyes while 45 single-cut diamonds weighing .30cts make up the birds' heads. We date this striking piece of carefully worked jewelry to the 1960s.
Natural Turquoise and Seed Pearl Earrings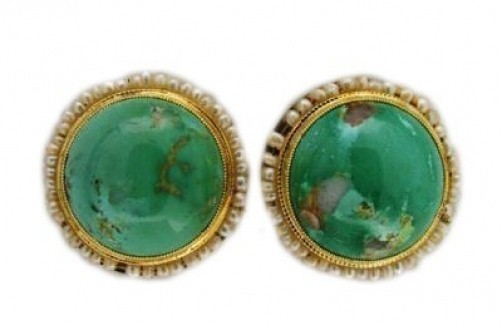 If you have a
history buff on your holiday gift list this year
, give her these earrings. We have dated them to the 1860s, which places them in the Civil War era. Made for pierced ears, the setting material of the stud earrings is 14k solid yellow gold. Eighty seed pearls surround two cabochon turquoises. The diameter of the un-dyed turquoise earrings is 5/8 inches.
Gold Bead Necklace Featuring Multiple Gemstones and Pearls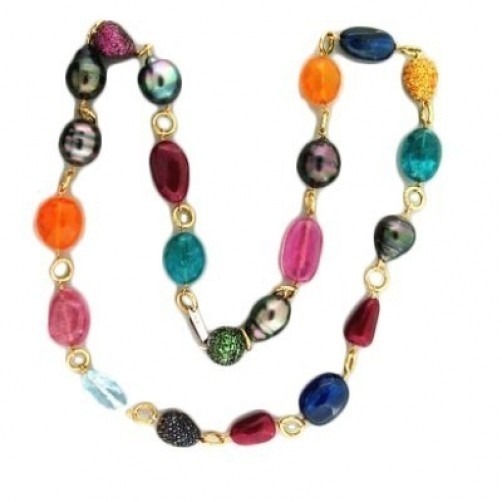 What do you give to the jewelry collector who already has a sizable collection of pearl strands? The answer is simple: a handmade
Fju one-of-a-kind necklace
. The artisan used 18k solid yellow gold for the setting and links material. Six Tahitian black pearls are alternated with gem-encrusted beads as well as gemstones like green garnet, pink ruby, yellow sapphires, blue sapphire, opals, tourmalines, aquamarines and others. This is a striking centerpiece of any jewelry ensemble and is certain to turn quite a few heads when worn.
Peter Suchy Jewelers is located at 1137 High Ridge Road in Stamford Connecticut and we invite you to
stop by our showroom
—some have called it an antique jewelry museum!
Or head on over to our top-rated PowerSeller
eBay store
where you'll find all the vintage pearl jewelry you see here. If you find a listing has ended, please email us at
info@petersuchyjewelers.com
as we may still have the item in stock.