The gorgeous color variation that makes diamonds brown has given rise to a number of artistic settings, which underscore the brilliance of the stones as well as their natural hues. Although in the past these stones were not as favored as their yellow or clear cousins, in recent years this trend has reversed, and now the brown gemstones are some of the most sought after variations.
At Peter Suchy Jewelers, we carry a huge assortment of brown diamond rings that are sure to tickle your fancy.
Gold Double Band with an Untreated Brown Diamond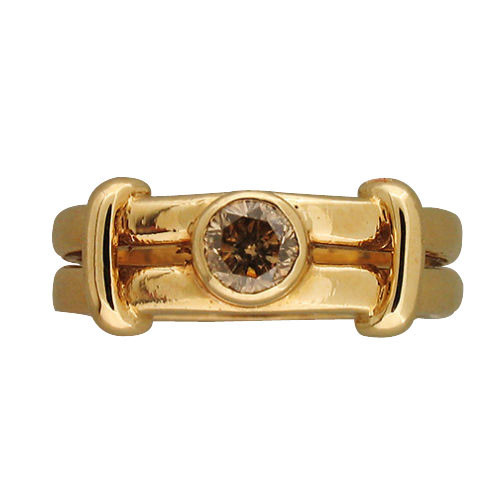 This
cocktail ring is made from 14k solid yellow gold
. Dating back to about the 1960s, it features a round brown diamond that weighs in at .45cts. The stone is natural and untreated. This is a beautiful focal point of a jewelry ensemble. Complement it perfectly with brown diamond earrings in gold settings.
Pink Gold Ring with Pear Rose-Cut Brown Diamond

The setting material is 14k pink gold. We
rate it as being an "8" on our pink gold scale
reaching from "1" to "10." The center stone is a multi-color diamond that is predominantly brown with some yellow and pink hues. Cut in the pear rose style, it weighs in at 1.34cts. Bringing out the shine are 44 round full-cut diamonds that weigh a combined .26cts. These smaller stones surround the brown diamond and cover a quarter of the setting on either side of the stone. A perfect conversation starter!
White Gold Petal Flower Ring Showcasing Multiple Diamonds

You will be hard-pressed to find its equal. This
ring is made from 14k white gold
. A cocktail ring, it is shaped to mimic the petals of a flower. There are 40 full-cut brown diamonds with a total weight of 1.00cts. Their rich coloration shows some gold hues. Another seven full-cut white diamonds make up the center of the flower. These stones weigh in at .18cts. Adorning the outer parts of the petals, 28 full-cut white diamonds weighing .15cts add extra brilliance to this piece. Rather than giving her a bouquet of flowers, give her this ring.
Art Deco Platinum Ring with Brown Diamond

Is there
a possible engagement in your future
? Are you looking for a daily-wear ring that is perfect for the office and special occasions? If so, this platinum ring with its cushion-cut 1.37cts yellow-brown diamond is a must-see. An additional six white single-cut diamonds on either side of the main gemstone add even more sparkle.
Dark Brown Diamond in a Platinum Setting
If there is an anniversary or other special occasion coming up, consider buying
this three-stone piece
. Set in platinum, the ring features a radiant-cut brown diamond weighing in at 2.14cts. There are some distinct orange hues, which make this stone exceedingly rare. The side stones are also diamonds. Featuring a square emerald cut, they weigh about 1.50cts. This ring has all the right certifications.
When you are ready to add some brown diamonds to your jewelry ensemble, check out these amazing selections. By the way, Peter Suchy has plenty of other pieces in stock as well so we invite you to
visit our showroom
located at 1137 High Ridge Road in Stamford Connecticut.
All of the vintage brown diamond rings you see here can also be found in our top-rated PowerSeller
eBay store
. If you find a listing has ended, please email us at
info@petersuchyjewelers.com
as we may still have the item in stock.