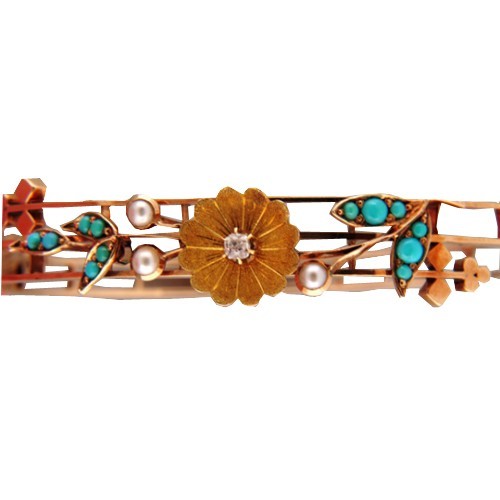 Turquoise is the kind of gemstone that connects you through time and space to humanity's ancestors. Whether it is the stone's use for Tutankhamen's burial mask or the mask of Xiuhtecuhtli – who is called the Turquoise Lord – the gems with the blue and green hues have become the stuff of legends.
Not surprisingly, plenty of modern jewelry buyers love this stone and look for pieces to wear themselves. What types of stones will you usually be able to choose from? Which ones are inferior and what kinds should you buy – if you can afford them?
New Landers turquoise. Although not necessarily a turquoise in the strictest term of the definition, this yellow stone, which may also feature a white color with brown webbing, looks just like the stone in question. New Landers turquoise is famous for its matrixed look.
Number 8 turquoise.
Coming from Nevada's Eureka County, the original Number 8 version was a
startling dark blue
with breathtaking spider webbing. Once exhausted, the current stones are a lighter blue and feature a brown matrix. There have also been some light green finds, but they required a stabilization treatment, which made them undesirable for the serious collector.
Orville Jack turquoise.
Because of the zinc in the rocks, the Orville Jack type of turquoise is of a startling yellow green coloration. The matrix can be brown but blotching is not uncommon.
Persian turquoise.
Now known as Iran, the stones found there are nevertheless
known as Persian turquoise
. These are the quintessential sky blue stones with an intensity that puts other rocks to shame. If you think you are holding a robin's egg and have to do a double take, you are probably looking at a Persian stone.
Pilot Mountain turquoise. Mined near Tonopah, there is a wide variety of stones and colors coming from Pilot Mountain. The pieces are exquisite because of their deep blue coloration that is interrupted by gold matrix and brown blotching. Light green pieces are also available.
Royston turquoise.
Coming from the same general area, the Royston pieces may be blue or green and feature fine tan patching.
by Zuni Pueblo artisans for their wares. It is of sky blue coloration and features black blotches. It is this look that most novices associate with the gemstone known as the turquoise.
Stormy Mountain turquoise. Another Nevada stone, it does not feature the famous webbing. Instead, the stones are of a lusterless blue coloration that seems to have a good bit of gray in it. They are not a favorite of jewelry makers.
Turquoise mountain turquoise.
Also found near Tonopah, these stones offer a wide range of coloration. Some are white while others fall into the traditional blue and green camps. Stones found here are expensive on the open market.
Tyrone turquoise.Mined in New Mexico, Tyrone turquoise is sky blue and features golden as well as tan matrix designs. There is a distinct similarity between some of these stones and the Persian variety. If you find a dark blue stone that features a mottled black matrix, you have hit the jackpot.
We hope you enjoyed our excursion into the world of the turquoise. Who knew that there were so many varieties? Missed
Part One
or
Part Two
? Follow their links to learn all you ever wanted to know about the different types of turquoise.
At Peter Suchy Jewelers we carry many pieces of vintage turquoise jewelry so we invite you to
stop by our showroom
located at 1137 High Ridge Road in Stamford Connecticut.
If you love shopping for antique turquoise online, hop on over to
our eBay store
where you'll learn we are a top-rated PowerSeller with 100 percent positive feedback.