The actress Natalie Wood was gorgeous on the screen and the camera loved her. Born on July 20, 1938 in San Francisco and given the name Natalia Nikolaevna Zakharenko, she was truly a California girl. At just a little over five feet, Natalie Wood graced film and television appearing in 56 films. She received three Oscar nominations—all before the age of 25! When she made her film debut in Happy Land(1943) movie lovers everywhere were enchanted.
Even today's youth can connect with Natalie and her role as Susan Walker in Miracle on 34thStreet (1947). But Natalie was more than just a child star. Although she made many films as a youngster from The Ghost and Mrs. Muir (1947) to The Green Promise (1949), we loved her in Splendor in the Grass, West Side Story and Rebel Without a Cause with James Dean.
Natalie was married three times—twice to actor Robert Wagner (1957-1962 and 1972-1981). She also married Richard Gregson (1969-1972) and was mom to two children, Natasha Gregson Wagner and Courtney Brooke Wagner. Unfortunately, the world lost Natalie and her beauty in a still-mysterious boating accident off Santa Catalina Island in California in 1981.
Some fun facts about Natalie include
Natalie attended ballet class with two-time husband Robert Wagner's third wife Jill St. John and Wagner's "Hart to Hart" co-star Stefanie Powers.
In the 1950s she was known as a "Hollywood Badgirl" and was once voted most difficult actress.
She was also featured as one of the most 25 intriguing people in the People Magazine 1976 issue.
Natalie turned down the role of Judith Anderson in the Devil's Disciple because she didn't' want to work with Kirk Douglas for "personal" reasons.
Her favorite actress was Vivien Leigh and her favorite flower? Gardenias of course.
Natalie also threatened her parents she would become a "juvenile delinquent" if not allowed to audition for Rebel Without a Cause!
Yes, Natalie was a head-turner and everyone's sweetheart on the screen during her time, but today, we thought we'd match our jewelry to some of Natalie Wood's jewelry!
The Love With the Proper Stranger Ring
In the movie Love With a Proper Stranger which co-starred Steve McQueen and created some steamy Hollywood heat, Natalie wore a stunning ruby diamond ring. The ring boasted a 4.60 carat oval cut synthetic ruby surrounded by 14 round cut (CZ) diamonds.

The Publicity Dome Ring
With 56 films for television and the silver screen, Natalie often chose to wear her "dome ring" for publicity appearances. It included a 9.6 carat cabochon cut simulated jade center stone in a basket weave setting.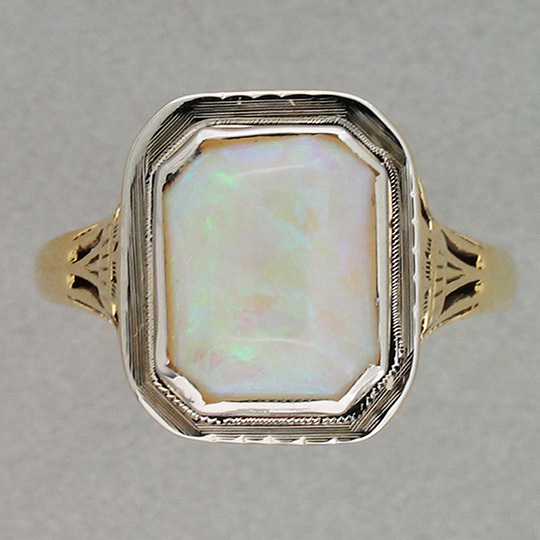 The Gypsy Rose Lee Earrings
Natalie wore these stunning diamond drop earrings in the 1962 film Gypsy. Each contained two clear (CZ) diamond solitaires suspended from clear (CZ) baguettes. Total weight for these "gypsy" earrings was a whopping 9.56 carats.

Our match for the Gypsy Rose Lee earrings? These
vintage baguette and full round diamond dangle earrings
. These are loaded with 12 baguette cut diamonds weighing approximately .20 carats and 34 full cut diamonds weighing approximately .50 carats. While ours are stars at the dangle point and Natalie's were round, we still think these are an awesome match!
At Peter Suchy Jewelers we are experts at vintage and estate jewelry and we hope you'll
stop by our showroom
located at 1137 High Ridge Road in Stamford Connecticut.
Of course all of our pieces seen here can be found in
our eBay store
—until they are sold so hurry on in!