Steve Lagos is the type of artist who has always known that the craft was calling to him. After spending some time experimenting with a variety of media, he finally settled on jewelry-making as his chosen form of self-expression. Pursuing a Lagos jewelry brand in earnest since 1977, the artisan has relied heavily on his travels to Asia and Europe to serve as inspirations for his pieces.
It is interesting to note that the artisan
designs his jewelry with a Lagos woman in mind
. The consumer for whom he creates his masterpieces is classic and timeless. She understands and embraces sophistication. Elegance comes naturally to her. At this time, the prolific artisan has created 22 collections.
Bold caviar.Featuring sterling silver, the caviar is actually made up of perfectly rounded balls of metal. Heavy and bold, these pieces are elegant yet at the same time a bit daring.
Charms and pendants.Adding a bit of whimsy to his designs, Lagos crafts keys and locks in the form of pendants and charms.
Color rocks.
Imagine
doublets of onyx
, lapis, turquoise, malachite or red jasper in a gorgeous silver setting. This is the design idea behind these vibrant pieces.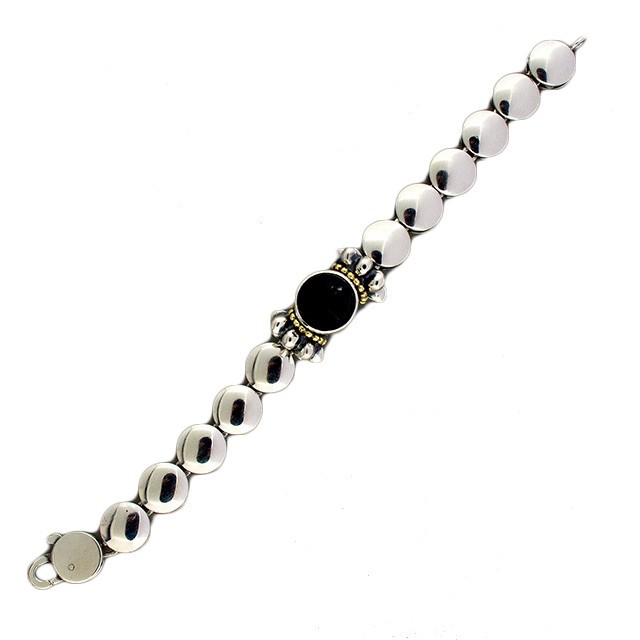 Derby. As the name implies, there are some faint associations with horseshoes and equine motifs.
Diamonds and caviar.If the caviar-like look of the silver was bold, imagine the addition of sparkling diamonds. It is difficult to say which style element is the bigger attention getter.
Enso. This collection takes the caviar design to a new level. The pieces are big, demand attention and offer a look of timeless elegance.
Glacier. The gemstones Lagos favors for this collection of almost cubist beauty include the purple and green amethyst, blue and white topaz, citrine, peridot, green and smokey quartz. Due to the sizing of the stones and the cuts employed, the brilliance of the gems and the silver settings remind of glacial ice.
Hearts of Lagos.Combine a bit of history, patriotism and even a dab of steam punk to arrive at these carefully crafted hearts that capture the imagination because of their detail work.
Imagine. Silhouettes and inverted shapes are the hallmarks of the Imagine collection. The pieces are unique in their bold approach and therefore guaranteed conversation starters.

Lagos chain. If the pendants are intricate, the chains should not be generic. As a firm believer in unique and visually artistic designs, the jewelry maker has chosen to carefully craft a number of chains that can be worn alone or accessorized.
Luna.
Pearls bespeak the moon
. Silver with gold accents ensures that the material represents the best possible setting for the jewel.
Muse. Diamonds and sapphires view for attention in these intricately crafted settings. They are suitable for the woman who prefers smaller pieces that nevertheless command attention.
Pirouette. Paying homage to the modern woman with an eye on visually stunning feats, these pieces are feasts for the eyes.
Prism. Once again, Lagos goes for brilliance in a big way. The color choices of the gemstones are soft, which nevertheless allows them to shine even when combined with other jewels.
Rare wonders.Look for intricately shaped pendants and charms. The amazing craftsmanship of these pieces combines with whimsy and realism. As a result, the depicted animals really do seem to be in the midst of movement.
Signature caviar.Reviving the caviar idea, the silver globes are paired with gold accents and intricate design details.
Silver rocks.Big, bold and stunning, the silver pieces celebrate the material as well as Lagos' workmanship.
Soiree. Once again, diamonds, gold and silver meet up to create stunning works of art. Resembling intricate strings or ropes, these pieces are as detailed as they are bold.
Unlaced. Imagine the Pirouette collection taken to the next level. If understated elegance is something that you crave, Unlaced is the collection to take in.
Venus. Large gemstones combine with intricate settings to combine beautiful pieces that are distinctly feminine.
X Collection. Combine gold accents with caviar molds and the letter "X." The resulting jewelry is refined and sophisticated.
Peter Suchy Jewelers is located at 1137 High Ridge Road in Stamford Connecticut and we invite you to
stop by our showroom
—some have called our showroom an antique jewelry museum!
We also invite you to like us on
Facebook
and check out our amazing
Pinterest Boards
and of course if you enjoy shopping for vintage, antique or estate jewelry, head on over to
our eBay store
where you'll learn we are a top-rated PowerSeller with over 5,000 transactions to date and 100 percent positive feedback.