The gems associated with John C. Rinker are some of the best-kept secrets in the trade. A master goldsmith by training and profession, Rinker has been in the jewelry business for almost four decades now. He remains in the Baltimore area, where he has built up a loyal clientele.
In the past, Rinker specialized in the design of unique pieces for Dahne and Weinstein. Sadly, this outlet closed its doors. While he gave them two decades of his expertise and impressive artistic ability, he did not hesitate to sign on with Heirloom Jewels as an antique restorer and designer.
When this business closed down, he opened the doors to
John C. Rinker Jewelry
. Now offering customers direct access to his know-how, skill and artistry, he has eliminated the middleman altogether. At this time, a devoted group of patrons entrust their broken jewelry to Rinker for expert repairs. He restores antique pieces made of platinum, gold or silver.

That said, the artisan also takes on custom designs. Since he knows how to expertly work with metals, customers bring their sketches and design ideas to Rinker for an honest evaluation and commission. The process is surprisingly simple. The customer sketches a design and then discusses material usage with the artisan.
Since Rinker knows how to custom-cut gems, he easily integrates
sapphires, rubies and diamonds
into the pieces. Watch as your idea becomes reality with the expert use of tools, raw materials and endless amounts of creativity and aesthetic know-how.
It is interesting to note that while this artisan does not design and create collections of his works, he does feature examples of his work.
Pendant design.Combine a diamond jump ring and a Mexican peso for the design of a pendant. Imagine what you can have him do with similar items you might have already on hand! The artisan also works cameo pieces featuring ancient Greek designs.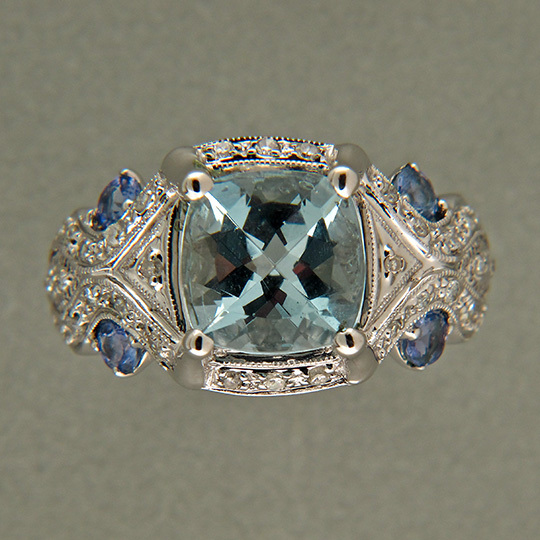 Custom designs.On his website, Rinker showcases a custom elephant design. It is well worth a closer look. The detail work on the piece is breathtaking.
Bracelets. Gold, sapphires and diamonds are the ingredients for a creatively done piece that bespeaks traditional jewelry-making.
Silver. Leaf patterns for silver earrings are not new. Yet the careful execution of these earrings sets them apart from the rest. There is no cutting of corners here. The leaves are carefully designed and made.
There is no limit to the creativity you see showcased at the Rinker jewelry store. Visit the locale if you are in town. If you are not close by, take the time to check out the pieces online. You are certain to be amazed by the versatility of the artist and the
extreme attention to detail
each piece has received.
As experts in the area of vintage and estate jewelry, Peter Suchy Jewelers invites you to
visit our showroom
at 1137 High Ridge Road in Stamford Connecticut. Love shopping for vintage or estate jewelry online? Head on over to our
eBay store
.